Wed 23 Sep 2009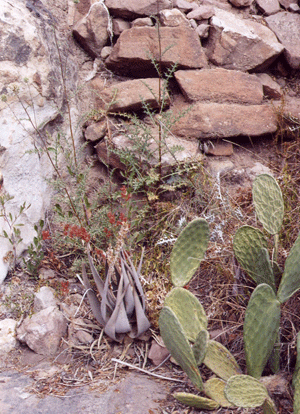 Aloe and Opuntia (balas Turkî) in al-Ahjur, central highlands of Yemen
Today I am flying on Lufthansa to Leipzig, and then on to Halle Wittenberg for a conference called "The use of herbs in Yemeni healing practices. An interdisciplinary workshop on traditional knowledge and cultural concepts in scientific perspective." The conference takes place September 25-26, 2009 at the Orientwissenschaftliches Zentrum , Martin-Luther-Universität Halle-Wittenberg, Germany. It has been funded by the Royal Ontario Museum Foundation, Ryerson University (both Toronto/Canada), and Martin-Luther-Universität Halle-Wittenberg, Germany. Click here for the order of the program.
The organizers are Dr Hanne Schönig (Orientwissenschaftliches Zentrum
Martin-Luther-Universität Halle-Wittenberg, homepage: http://www.owz.uni-halle.de/owz.php?pid=2) and Dr Ingrid Hehmeyer (Department of History, Ryerson University, Toronto, homepage: http://www.ryerson.ca/history/faculty/Hehmeyeri.html) and Dr Anne Regourd, Collaborateur Scientifique, Dept of Islamic arts, Musée du Louvre, Paris – France, homepage: http://www.anne.regourd.org.
The conference participants and papers are noted below:
Prof. Abdulrahman S. Al-Dubaie
University of Florida
Professor of Botany
Biology Department, Faculty of Science
Sana'a University
Republic of Yemen
e-mail: asaldubaie@gmail.com
"Traditional uses of some medicinal plants in Al-Mahweet governorate, Yemen."
Prof. Dr. Abdul Nasser Al-Gifri
Professor of Plant Taxonomy
University of Aden
P.O. Box 6014, Khormaksar, Aden – Yemen
Tel.: ++967-733-161390
e-mail: ngifri@yahoo.com
"The most common herbs and their traditional therapy in Yemen."
Prof. Dr. Amin Al Hakimi
Prof. Plant Breeding,
Faculty of Agriculture
Sana'a University &
Head of Yemeni Association for Sustainable
Agriculture Developement
P.O. Box 13768 Sana'a
Republic of Yemen
"Traditional farmers knowledge on plant uses as the key point for preservation of biodiversity in the High Mountain Areas of Yemen"
Dr. Abdul Wali Ahmed Al Khulaidi
Researcher of plant ecology
Dr. Abdul Wali A. Al Khulaidi
Plant Ecology and Geography
Agricultural Research Authority,Taiz,Yemen
Tel home: 00967 4245104, 00967 777245103,Yemen
Tel office: 00967 4200055
Tel. 0044 7833337525, UK
e-mail: abdulwali20@yahoo.com
"The main vegetation types and the important values of the Jabal Bura' protected area."
John Christopoulos
PhD candidate
Department of History, Ryerson University
350 Victoria Street
Toronto, Ontario M5B 2K3 – Canada
e-mail: john.christopoulos@utoronto.ca
Dr Jacques Fleurentin
Pharmacist, Professeur Associé, Université de Metz
Société Française d'Ethnopharmacologie (President)
1, rue des Récollets
57000 Metz – France
Tel/Fax : ++ 33 (0)3 87 74 88 89
e-mail: jacques.fleurentin@free.fr
"From traditional medicinal plants to therapeutic herbal drugs : the valorisation of natural resources, an applied ethnopharmacological program"
Dr. agr. Ingrid Hehmeyer
Associate Professor, History of Science and Technology
Department of History, Ryerson University
350 Victoria Street
Toronto, Ontario M5B 2K3 – Canada
Tel.: ++ 416-979-5000, ext. 6141
e-mail: ihehmeye@ryerson.ca
"The validity of traditional medicine as an effective tool in issues of human health"
Dr. des. Dinah Jung
Ethnologisches Seminar der Universität Basel – Switzerland
e-mail: dinah.jung@googlemail.com
"The use of agarwood in Yemen"
Prof. Dr. rer. nat. Ulrike Lindequist
Ernst Moritz Arndt Universität Greifswald
Institut für Pharmazie (Pharmazeutische Biologie)
Friedrich-Ludwig-Jahn-Straße 17
D-17489 Greifswald
Tel. ++49-3834-864868
e-mail: lindequi@uni-greifswald.de
"The potential of Yemeni medicinal plants from a pharmaceutical point of view"
Dr. Mohammed Maraqten
Institut für Orientkunde, Johannes Gutenberg Universität
Mainz
e-mail: maraqten@mailer.uni-marburg.de
"Healthcare and healing methods in pre-Islamic Yemen"
Dr. Miranda Morris
linguistics and ethnography of South Arabia
*Member of the Working Group on Collaborative Management of Natural Resources of the IUCN Commission on Environmental, Economic and Social Policy.
* Vice-Chairman of The Friends of Soqotra (established 2001)
* Research Associate of the Royal Botanic Gardens Edinburgh
* Honorary Research Fellow
University of St. Andrews
School of History [St. Katherine's Lodge, The Scores]
St. Andrews, Fife KY16 9AL – United Kingdom
Phone: +44-1334-479134
e-mail: miranda@mirandamorris.co.uk
"Aloes and frankincense: changing attitudes and uses in Southern Arabia (mainland Yemen, Soqotra and Dhufar"
Dr. Ester Muchawsky-Schnapper
social anthropologist (Material culture of Yemenite Jews)
Curator
Department of Judaica and Jewish Ethnography
The Israel Museum
Jerusalem 91710 – Israel
Tel.: ++972-2-6708986
e-mail: much_b@netvision.net.il, esterm@imj.org.il
"Healing through medicinal plants: Old Yemenite therapeutic traditions applied in Jerusalem of today"
Prof. Dr. Mikhail Rodionov
social anthropologist
Head of South Western and Southern Department
Peter-the-Great Museum of Anthropology & Ethnology, Russian Academy of Sciences
Universitetskaya Naberezhnaya, dom 3
St. Petersburg 199034 – Russland
Tel.: ++7-812-328-4377
Fax: ++7-812-328-0811
e-mail: mrodio@yandex.ru
"Honey, coffee and tea in the ritual and healing practices of Hadramawt"
Prof. Dr. Dan M. Varisco
Chair and Professor of Anthropology
Hofstra University
Hempstead, New York 11549 – USA
Tel.: ++ 1-516-463-5590 (work)
++ 1-516-463-6250
e-mail: Daniel.M.Varisco@hofstra.edu
"Qât, Sex and Traditional Healing."
One Response to "Healing Herbs in Yemen"
My Blog Title Says:
April 26th, 2011 at 8:56 pm

Title…

la scienza e Vinicio de Bortoli…
Leave a Reply
You must be logged in to post a comment.