Tue 11 Mar 2008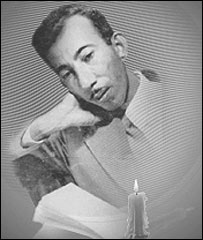 The Iraqi Poet Badr Shakir al-Sayyab
[Note: This is the 17th in a series of translations of selected letters of the noted Iraqi poet Badr Shakir al-Sayyab. For more information on the poet, click here.]
Letter #17
Basra…..(1)
My Brother Jabra (Ibrahim Jabra),
Only yesterday I received your letter dated, 4/ 29/1963. I was overjoyed especially because your news has been disrupted for a while now. In a letter to me from Taoufik Sayigh, he inquires about the reason for your absence from him and from "Hiwar." I hope you will write to him.
I continue to improve, but at the same slow pace. I am still waiting for my improvement to reach a certain stage so I can come to Baghdad and remain for a week or two.
Bahij 'Uthman has not yet sent me my personal copies of " al-Ma'bid al-Ghariq" and "Manzil al-Aqnan." Perhaps they will arrive soon, and then I will send you your two copies.
Enclosed with this letter, you will find two new poems which I hope will earn your approval. I am ready to translate any article you send.
Dennis Johnson-Davies says that my personal poems are better than my committed ones. However, now, I only write personal poetry. As for my committed poems, they are so rare that they might as well be nonexistent. Many of my poems are currently being translated into French and will be published in Paris and Luxembourg: in journals, of course. In the mean time, a French author is considering translating one of my poems into English.
I passed by Paris on my way home, and I was visited at my hotel by John Hunt and Miss Luke Nouran – bouquets of flowers, kisses and touching glasses!! I was also visited by a large number of acquaintances and friends. Simon Jarji overwhelmed me with his kindness, love and care. Perhaps Luke Nouran will come to Iraq and particularly to beautiful "Jaykur" after the Baalbak Festivals as she promised.
Please convey my greetings to my sister, Um Sadir, the friends at the petroleum company, Khalid 'Ali Mustafa and all the friends.
Take care of yourself for your brother.
Sincerely yours,
Badr al-Sayyab
My address is: House # 2 – al-Tannuma Street
al-Ma'qal.
(1) Probably written early in the fifth month of 1963 based on the reference to the letter he is responding to.
[From the book, al-Sayyab's Letters, by Majid al-Samurra'i, (Beirut: Al-Mu'assasa al-'Arabiya li-al-dirasat wa-al-Nashr, Second Edition, 1994, p. 210) Translated from the original Arabic and with an introduction by George Nicolas El-Hage, Ph.D., Columbia University.]
One Response to "The Letters of Badr Shakir al-Sayyab: #17"
Edgar Kenneth Says:
March 11th, 2008 at 9:36 am

"Jabra" – It' so musical as a sound…

I am a non professional writer and I am so curious to know more about the poems of this author.

Compliments for your blog
Leave a Reply
You must be logged in to post a comment.