Mon 15 Oct 2007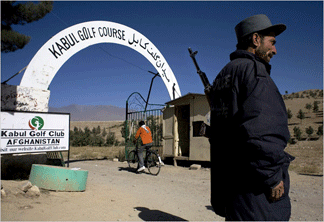 What might be the top story coming out of Afghanistan today? Another Korean missionary kidnapped by the Taliban, a new estimate of a bumper poppy crop, yet again a suicide bombing in Kabul? These are too obvious to be news anymore. How about the largely unused and downright laughable Kabul Golf Course? This is the front-and-center story with two color pictures on the front page of today's New York Times. And for those who can click a mouse, there is a slide show with thirteen (not a lucky number for an amateur) photographs.
This is no ordinary golf course, which is one of the reasons it makes the first page. Here is the description reported today by Kirk Semple:
It is the Kabul Golf Course, Afghanistan's only one, and Mr. Abdul, who picked up a putter for the first time when he was 10, is its director and golf pro.

The nine-hole course is extraordinarily rugged by any standard. It has no grass and no delineation between the fairways and the rough, and the greens — the course rules call them browns — are a concoction of sand and oil packed with a heavy roller and swept with a broom vaguely resembling those dragged along the base paths at the seventh-inning stretch in baseball.

When it opened in 2004, the course was a charming oddity that reflected the ascendant optimism of the time and seemed to point toward a brighter Afghan future. Recovery was in full swing , as development money, aid workers and diplomats poured into the country. Scores of foreigners came to play each week. Sensing that his dream of an emerald course was within reach, Mr. Abdul dug a grid of ditches across the course in anticipation of a modern irrigation system.

But three years later the ditches remain empty of pipes, the flow of players has dropped to about a dozen in a good week and the course is as forlorn as ever.

With the economy still a wreck, crime on the rise, aching poverty everywhere and Taliban fighters resurgent, the course now seems wildly out of place.
Wildly out of place. Someone should have told this to the front page editor. OK, it is nice to have something besides blood and gore grabbing a headline, but, of all the human interest stories a reporter might find in Afghanistan, do we really need to throw sand in the face of a country struggling to renew itself after decades of violence and stunted development? The page 4 insert shows a golf ball with black ants climbing all over it and another picture has a caption noting the course "is so rocky that swatches of artificial turf must be used for fairway shots." If this makeshift course is "hardly a lush landscape of verdant fairways," what makes it newsworthy? Even the entrepreneur Afghan Arnold Palmer, whose name is Abdul, is described as having a swing "basically sound, if a little stiff." So he won't make the next pro tour, but why humiliate him in a a dehumanizing interest story that essentially mocks this sand oasis of an American sport icon?
I note with irony that the story is titled "A Golf Course where Water in Not the Hazard." How true. In this case the hazard is the roving reporter looking for a cheap laugh.
Daniel Martin Varisco
Leave a Reply
You must be logged in to post a comment.