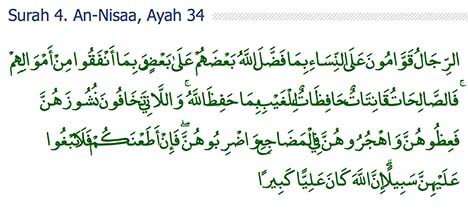 by Ayesha Chaudhry, The Globe and Mail, March 27, 2014
Muslims have a problem with domestic violence. Let me be clear – most think it's a terrible thing. But the troubling fact remains that it's difficult for Muslims to argue that all forms of domestic violence are religiously prohibited. That is because a verse in our sacred scripture can be interpreted as allowing husbands to hit their wives.
This verse, found in Chapter 4, Verse 34, has been historically understood as saying that husbands can admonish disobedient wives, abandon them in bed and even strike them physically. This verse creates a conundrum for modern Muslims who believe in gender equality and do not believe that husbands have the right to discipline their wives at all, never mind hit them. How can devout Muslims both speak out against domestic violence and be faithful to a religious text that permits wife-beating?
As it turns out, the way out of this problem lies not only in the Koran itself – but in the very verse. (more…)