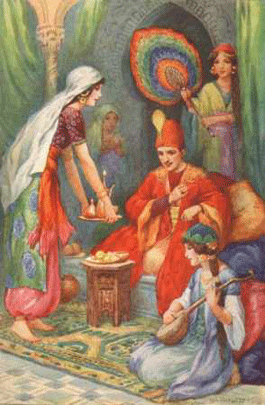 Illustration of Prince Agib by Harry G. Theaker from The Arabian Nights
THE STORY OF PRINCE AGIB
by W. S. Gilbert
STRIKE the concertina's melancholy string!
Blow the spirit-stirring harp like any thing!
Let the piano's martial blast
Rouse the Echoes of the Past,
For of Agib, Prince of Tartary, I sing!
Of Agib, who amid Tartaric scenes,
Wrote a lot of ballet-music in his teens
His gentle spirit rolls
In the melody of souls –
Which is pretty, but I don't know what it means
Of Agib, who could readily, at sight,
Strum a march upon the loud Theodolite :
He would diligently play
On the Zoetrope all day,
And blow the gay Pantechnicon all night.
One winter -I am shaky in my dates-
Came two starving minstrels to his gates,
Oh, Allah be obeyed,
How infernally they played
I remember that they called themselves the" Oiiaits." (more…)