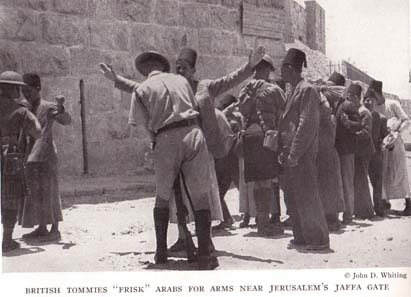 The plight of the Palestinians has a long history, one engaged on the ground before the creation of modern Israel. The photograph above, taken by John D. Whiting, is from The National Geographic Magazine December 1938 issue (p. 696). The caption reads:
BRITISH TOMMIES "FRISK" ARABS FOR ARMS NEAR JERUSALEM'S JAFFA GATE
In fighting between Arabs and Jews, hundreds on both sides have been killed and wounded from gunfire, bombs, and mines set under highways. Both peoples object to the proposed partition of the country, whereby each would be colonized in a separate district and Britain would retain control of a corridor from Jerusalem to the sea and of certain other regions.
One is reminded of Solomon's lament that there is nothing new under the sun or the old French saw that the more things change, the more they remain the same. Regardless of who has done the frisking, the image of civilians standing in line before soldiers and with their hands up in the air is a telling reminder of the inability of politicians to resolve one of the most intractable disputes of the 20th century. The aftermath of two world wars and the thawing of the Cold War would seem more difficult to resolve than sharing space in a small corner of the Middle East. But then, this is a corner with a history of bloodshed that is unrivaled anywhere else. How ironic that the city where Christians believe the "Prince of Peace" will save the world from ultimate evil has been the site for so much continuing mistreatment of people.