Sun 21 Jun 2009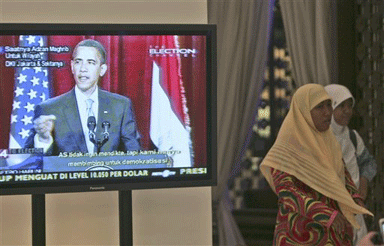 by Donald K. Emmerson, Stanford University
[A trivially different version of this essay appeared in AsiaTimes Online on 6 June 2009, reposted on the East Asia Forum on June 11]
US President Barack Hussein Obama's speech on 4 June 2009 in Cairo, the second of three planned trips to Muslim-majority countries, was outstanding.
First, it opened daylight between the US and Israel. Israeli settlements on the West Bank are impediments to a two-state solution and a stable peace with Palestine. Obama did not split hairs. He did not distinguish between increments to existing settler populations by birth versus immigration with or without adding a room to an existing house. The United States, he said, does not accept the legitimacy of continued Israeli settlements. Period.
The American Israel Political Affairs Committee, which advertises itself as America's pro-Israel lobby, cannot have been pleased to hear that sentence. But without some semblance of independence from Israel, the US cannot be a credible broker between the two sides. It is not necessary to treat the actions of Israeli and Palestinian protagonists as morally equivalent in order to understand that they share responsibility for decades of deadlock. New settlements and the expansion of existing ones merely feed Palestinian suspicions that Israel intends permanently to occupy the West Bank. Nor did Obama's criticism of Israeli settlements prevent him from also stating: Palestinians must abandon violence. Period.
Second, alongside his candor, he showed respect. The most effective discourse on controversial topics involving Islam and Muslims is both sensitive to feelings and frank about facts, as I argue in a forthcoming book. Inter-faith dialogues that rely on mutual self-censorship–an agreed refusal to raise divisive topics or speak hard truths–resemble sand castles. Empathy based on denial is unlikely to survive the next incoming tide of reality. Respect without candor, in my view, is closer to fawning than to friendship.
As Obama put it in Cairo, "In order to move forward, we must say openly to each other the things we hold in our hearts and that too often are said only behind closed doors. As the Holy Quran tells us, 'Be conscious of God and speak always the truth.'" His listeners applauded–most of them, perhaps, because he had cited their preferred Book, but some at least because he had defended accuracy regardless of what this or that Book might avow.
In the partnership that Obama offered his audience, sources of tensions were not to be ignored. On the contrary, we must face these tensions squarely. He then followed his own advice by noting that extremists acting in the name of Islam had in fact killed more adherents of their own religion than they had Christians, Jews, or the followers of any other faith. In the same candid vein, he noted with disapproval the propensity of some Muslims to repeat vile stereotypes about Jews, the opposition of Muslim extremists to educating women, and the fact of discrimination against Christian Copts in Egypt, the very country in which he spoke.
Third, his speech was notable for what it did not contain. The word "terrorism," a fixture of the Manichean rhetoric of George W. Bush, did not occur once. Back in Washington, in his 26 January televised interview with Al Arabiya, Obama had used the phrase Muslim world 11 times in 44 minutes–an average of once every four minutes. In the run-up to his Cairo speech, the White House had repeatedly hyped it as an address to "the Muslim world." Yet in the 55 minutes it took him to deliver the oration, the words "Muslim world" were never spoken. He must have been advised to delete the reference from an earlier draft of his text.
I believe the excision strengthened the result, but not because a "Muslim world" does not exist. Admittedly, one can aregue that 1.4 billion Muslims have too little in common to justify speaking of such a world at all. But the already vast and implicitly varied compass of any "world" diminishes the risk of homogenization. One can easily refer to "the Muslim world" while stressing its diversity. Many Muslims and non-Muslims already use the phrase without stereotyping its members. No, the reasons why Obama avoided the phrase were less definitional than they were political in nature.
Had Obama explicitly addressed the Muslim world in Cairo, he would have risked implying that his host represented that Muslim world, as if Egypt were especially authentic–quintessentially Muslim–in that sphere. That would have been poorly received in many of the other Muslim-majority societies that diversely span the planet from Morocco to Mindanao.
Several years ago a professor from Cairo's Al-Azhar University, which co-sponsored Obama's appearance, told me in all seriousness that Indonesian Muslims, because they did not speak Arabic, were not Muslims at all. Obama did not wish to be read by the followers of ostensibly universalist Islam as endorsing such a parochially Arabo-centric conceit.
The US president could, of course, have mentioned the Muslim world and in the next breath denied that it was represented by Egypt, a country under an authoritarian regime with a reputation for corruption of near-Nigerian proportions. But it was far smarter and more effective for Obama to have shunned the phrase altogether, thereby avoiding the need to clarify it and risk implying that his hosts were somehow less than central to Islam, less than paradigmatically Muslim. Such a candid but insensitive move would have triggered nationalist and Islamist anger not only in his Egyptian audience, but in other Muslim-majority countries as well. Indonesian Muslims, for example, would have wondered with some apprehension whether to expect comparably rude behavior were he to visit their own country later this year.
Obama's listeners at Cairo University were, instead, subjected to twin eloquences of absence and silence: Egyptian President Hosni Mubarak's not being present, and Obama's not mentioning him at all. Eloquent, too, was the absence of Israel from his itinerary. This omission was not a sign of hostility toward Tel Aviv, however. He termed the US-Israel bond "unbreakable." Not visiting Israel merely signaled that Washington on his watch would not limit its foreign-policy horizon to what any one country would allow.
Obama mispronounced the Arabic term for the head covering worn by some Muslim women. The word is hijab not hajib. But that small slip was trivial compared with the brilliance and timeliness of what he had to say. Rhetoric is one thing, of course; realities are quite another. The tasks of resolving the Israeli-Palestinian conundrum and improving relations with the heterogeneous Muslim world are more easily discussed than done. Illustrating that Muslim world's extraordinary diversity are the many and marked differences between Turkey, where Obama spoke on 6 April on his first overseas trip, his Egyptian venue two months later, and Indonesia, which he is likely to visit before the end of 2009.
Before his choice of Cairo was announced, several commentators advised him to give his Muslim world speech in June in the Indonesian capital, Jakarta. Rather than risk legitimating Mubarak's autocracy, they argued, he should celebrate Indonesia's success in combining moderate Islam with liberal democracy.
Following their advice would have been a mistake. Not only did speaking in Cairo enable Obama boldly to address the Israeli-Palestinian conflict from a podium close to its Middle Eastern epicenter. Had he traveled to Indonesia instead, his visit would have been tainted by an appearance of American intervention in the domestic politics of that country, whose President Susilo Bambang Yudhoyono is up for re-election on 8 July.
Earlier in his career, Yudhoyono completed military training programs in the US, at Fort Benning and Fort Leavenworth, and earned a master's in management from Webster University in St. Louis. No previous Indonesian head of state has had a closer prior association with the United States. Yudhoyono's rivals for the presidency are already berating him and his running mate as neo-liberals who have pawned Indonesia's economy to the capitalist West. Obama could feel comfortable keeping the autocrat Mubarak at arm's length in Cairo, but in campaign-season Indonesia the US president would have been torn between behaving ungraciously toward his democratically chosen host and appearing to back him in his race for re-election.
Yudhoyono's popularity ratings among Indonesians are even better than Obama's are among Americans. The July election is Yudhoyono's to lose. But the winner's new government will not be in place until October. The US president was wise to postpone visiting Indonesia until after its electoral dust has cleared and the next administration in Jakarta has taken shape. A gathering of leaders of the Asia Pacific Economic Cooperation forum, which Obama is expected to attend, is conveniently scheduled for mid-November in Singapore. He could easily visit Indonesia en route to or from that event.
An Indonesian journalist in Cairo interviewed Obama shortly after his speech. The president virtually confirmed this November itinerary by saying that his next trip to Asia would include Indonesia. He said he looked forward to revisiting the neighborhood in Jakarta where he had lived as a child, and to eating again his favorite Indonesian foods–fried rice, bakso soup, and rambutan fruit among them.
A trifecta happens when a gambler correctly predicts the first three finishers of a race in the correct order. Obama appears to have bet his skills in public diplomacy on this sequence: Ankara first, then Cairo, then Jakarta.
One can ask whether his actions will match his words, and whether the US Congress will go along with his prescriptions. But with two destinations down and one to go, Obama is well on his way to completing a trifecta in the race for hearts and minds in the Muslim world.
Donald K. Emmerson heads the Southeast Asia Forum at Stanford University. He is the editor of Hard Choices: Security, Democracy, and Regionalism in Southeast Asia (Stanford/ISEAS, 2008).
Leave a Reply
You must be logged in to post a comment.