Sun 17 May 2009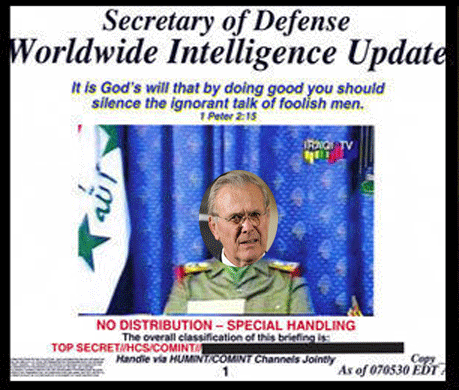 The Bible is a big book with plenty of quotations for politicians and other enemies of clear thinking. Thomas Jefferson came up with his abridged Bible based solely on the Gospels. He saw value in the ethics but not much in the legal wrangling and superstitions. Now it appears that former Secretary of Defense Donald Rumsfeld took the opposite approach, striking out the blessed beatitudes like "Blessed are the peacemakers" (Matthew 5:9) and "love your enemies" (Matthew 5:44). Who needs that when there is all that hellfire and brimstone and enemy bashing early on? Apparently not Mr. Rumsfeld, nor his adoring boss, Mr. Bush.
It appears that even though the Defense Secretary was not very adept at devising a plan for post-war Iraq security, he did know a thing or two about Photoshop. You can see a slide show of the illustrated covers of his "Worldwide Intelligence Update" (oxymoron that it was) on the GQ website. It is not hard to see why it was given "no distribution" classification.
So think about the scenario. President Bush had noted that his favorite philosopher was Jesus. But Secretary Rumsfeld was no soft-touch, long suffering Messiah quoter. No, he prepared his reports from the Old Testament prophets and a few dandy proverbs. Somehow none of the actual words of Jesus made his "Intelligence Reports." I suppose they might have been a little uncomfortable, given the circling of hawks in the Pentagon at the time. But I doubt Rumsfeld searched the scriptures with his Cruden's Concordance open. He probably kept a copy of General Patton's biblical interpretation on his nightstand. Here is what Patton said about the silly notion that "thou shalt not kill" should be taken as a serious commandment:
"These pulpit killers that go around saying that the Bible says that man dare not kill causes the death of many thousands of good soldiers. Damn little those pulpit killers know about the Bible. They know even less about the way God works. They should read all of the Bible, not just the part they like! God never hesitated to kill. God never hesitates to kill when one man or any race of man needed to be punished. God helped David kill Goliath, didn't he? How about Noah and the Ark? All of the rest of the people were killed in the flood! God took the blame for this mass murder. How about the Red Sea which opened up long enough for one race to escape and another race to be killed. Don't talk to me about God not permitting man to kill. War means that we have to kill people. That's all there is to it. It is a sin not to kill if we are serving on God's side. There is no other way to win. Wars must be won for God's sake. He has a part in every war! The quicker we can kill the enemy, the quicker we can go home and listen to the pulpit killers tell us what we did wrong. If it wasn't for us, those pulpit idiots would be shot for standing in their own pulpits. Our task is to kill the enemy before we are killed."…
Perhaps there is room for yet another beatitude. "Blessed are the pulpit killers."
Luke R. E. Publican
Leave a Reply
You must be logged in to post a comment.