Thu 19 Feb 2009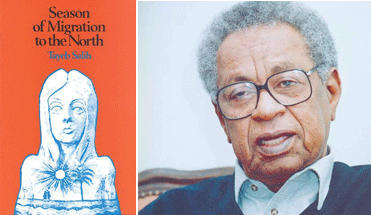 Acclaimed Sudanese novelist Al-Tayeb Saleh dies
The Associated Press, February 18, 2009
KHARTOUM, Sudan: Al-Tayeb Saleh, one of the Arab world's top novelists who excelled at portraying characters torn between East and West, died Wednesday in London, Sudan's official news agency said. He was 80.
Saleh was born in 1929 in the northern Sudanese town of Marawi to a poor family and was educated first in Islamic schools and then later British institutions. He left Sudan to pursue graduate studies in the U.K. and went on to live in various European and Arab capitals, rarely returning home.
His works reflected the Arab and African quest for identity, especially in the period of 1960s, which were marked by the end of colonialism and the rise of nationalism across the region.
His 1966 masterpiece, The Season of Migration to the North, can be described as one of the earlier writings about the idea of a clash of civilizations.
"I have redefined the so-called East-West relationship as essentially one of conflict, while it had previously been treated in romantic terms," he said once in an interview in the Arabic press.
The novel was ranked among the 100 best works of fiction in 2002, according to a vote by 100 noted writers from 54 countries organized by the Norwegian Book Clubs.
The story is about intellectuals torn between the culture of their native Sudan and that of Europe, where they lived for a time.
One of the main characters in the story describes his time in the West, where he seduces and then dumps a succession of English women before finally marrying one in a stormy love-hate pairing that ultimately results in her murder at his hands.
Critics speculated that the novel drew heavily from the author's own life, however Saleh, who married a Scottish woman, always denied this assertion, maintaining it was only fiction.
Though not officially banned, the Sudanese government in late 1990s attacked the novel as pornographic and said it violated Islamic teachings. But most believe the government's displeasure with the book stemmed from its harsh description of the political and cultural conditions in Sudan.
Saleh also wrote The Cypriot Man and the The Wedding of Zein, which was turned into a film that won a prize at the Cannes Film Festival in 1976.
He also contributed to a monthly London-based Arabic publication, Al-Majalla.
Gamal el-Ghitani, editor in chief of the Cairo-based literary weekly Akhbar al-Adab, described Saleh as "irreplaceable."
"Saleh is one of world's top novelists," el-Ghitani said. "On personal level, he was a modest, wise and brave man who carried the essence of Sudan's culture outside its borders."
Saleh is survived by his wife and three daughters.
Leave a Reply
You must be logged in to post a comment.