Sat 26 Apr 2008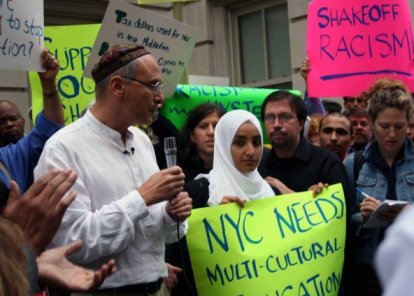 August 23, 2007
Jews for Racial and Economic Justice (JFREJ) on Debbie Almontaser's Resignation and the targeting of the Kahlil Gibran International Academy
As parents, students, teachers, New Yorkers, and Jews, we are outraged by the series of events that have culminated in Debbie Almontaser's resignation as principal of the Kahlil Gibran International Academy. We are particularly disturbed that Mayor Bloomberg, Joel Klein, the Chancellor of the Department of Education, and Randi Weingarten, the President of the United Federation of Teachers, bowed to right-wing pressure and did not strenuously resist and condemn the unjustified attacks on Ms. Almontaser, which fed on and fostered anti-Arab and anti-Muslim prejudice. We call for Debbie Almontaser to be reinstated to her position as principal if that is what she wishes, and for full support for the Kahlil Gibran International Academy.
After 9/11, Ms. Almontaser was a key partner with JFREJ on a series of community-building events to build greater understanding between Muslims and the broader community. She stood out to us in her fervent desire to learn about other communities and put forward a clear vision of a Muslim commitment to peace and justice for everyone.
In failing to strongly defend Ms. Almontaser, Mayor Bloomberg, Chancellor Klein, and Ms. Weingarten have helped to undermine the Kahlil Gibran International Academy?s mission before it even opens and have contributed to the very problems it seeks to address. These actions also contributed to an atmosphere of fear among educators that weakens their ability to serve the children of New York City.
The Kahlil Gibran International Academy was created to teach Arab culture, Arabic, and Middle Eastern history. Since the announcement of the school?s opening in March of 2007, it has been repeatedly targeted by right-wing media outlets for scrutiny and criticism. Ms. Almontaser's ostensible offense, in responding to a question about the phrase "Intifada NYC" on a T-shirt made by Arab Women Active in the Arts and Media (AWAAM), was to seek to educate. This was a trick question posed by the New York Post. Ms. Almontaser responded honestly and thoughtfully, trying to keep the focus on the school that she and many others hope will increase mutual understanding within our diverse city. She should not have felt compelled to resign.
The tactics used to attack Ms. Almontaser have been used against members of every minority and/or oppressed group, including Jews, in one context or another. They bring to mind the way that prominent African-Americans are periodically pressed to respond publicly to remarks and opinions of other Blacks in a way that white public figures are never pressed. The objective is to create a political loyalty test that members of minority or oppressed groups may be required to pass at any moment or be subject to savage attack.
Those who exploit Middle East tensions to create and exacerbate suspicion in our city are enemies of New Yorkers of all ethnicities, nationalities and religions. We reject the effort by The Sun, the New York Post, and their allies to whip up hysteria by attacking Ms. Almontaser and, through her, the Kahlil Gibran International Academy. We reject their attempts to demonize language and limit the political discourse in public life. We are disturbed that the Mayor, Chancellor, and UFT president capitulated to their pressure. When a similar situation of anti-Arab race-baiting arose in the NYC Human Rights Commission, the Mayor stood by Commissioner Omar Mohammedi. We are disappointed that Mayor Bloomberg did not do the same in this situation.
Jews for Racial and Economic Justice (JFREJ) urges Chancellor Klein to re-appoint Ms. Almontaser to her position as principal, if she wishes to be reinstated. We call on Mayor Bloomberg, Chancellor Klein, and Ms. Weingarten to fully support the Kahlil Gibran International Academy and to work with Muslim and Arab communities and all communities in New York that to break down fear and ignorance, and to build bridges, in the manner that Debbie Almontaser and her colleagues are seeking to do.
Jews for Racial and Economic Justice engages Jews to pursue and win racial and economic justice in partnership with Jewish and allied people of color, low-income and immigrant communities in New York City. JFREJ's letter to Mayor Bloomberg, Chancellor Klein, and UFT President Weingarten is posted at www.jfrej.org.
Leave a Reply
You must be logged in to post a comment.