Tue 29 Jan 2008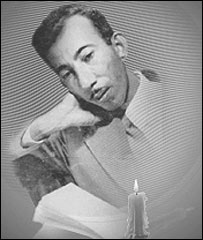 The Iraqi Poet Badr Shakir al-Sayyab
[Note: This is the twelfth in a series of translations of selected letters of the noted Iraqi poet Badr Shakir al-Sayyab. For more information on the poet, click here.]
Letter #12
Baghdad 3/12/1960
My Dear Beloved, Adunis,
Your letter arrived a long time ago. I would have responded to it before now had it not been for the mid-year examinations and the numerous corrections of notebooks that accompany it. I work now as a lecturer and not as an employee in the secondary schools due to the dire need for English teachers. I am one of them.
It is kind of you to remember your brother who loves you immensely and who respects you greatly both as a person and a poet.
I am still of the same opinion concerning my trip to Lebanon. It will take place during the summer, God willing. Would I succeed in finding a job sufficient to sustain me, my wife and my child? I do not know. However, I am prepared to teach even if that is my least desirable wish.
Do you recall your splendid poem with the gate that observes you and chases you across the roads? While writing it, you were influenced by the poem of Abu Zayd al-Hilali. As for me, I was influenced during this period by my reading of "The Arabian Nights." As a result, I wrote my poem, "The City of Sinbad," which I have enclosed in this letter, not only for you to read but also for you to pass on to Yusuf (al-Khal) so that he may find a small place for it in "Shi'r." Otherwise, I will satirize him more severely than the previous time.
I would have preferred if you had written more because you have much more to talk about than I. As for me, what can I tell you? Shall I tell you about my monotonous house life and the screaming of my children?
Why are you so silent, Adunis? Why don't I read any of your great poems? Is it that "Arwad" has distracted you? I hope to hear from you soon.
Please convey my regards to your wife, to your brother, Yusuf (al-Khal), to Mrs. Edvik Jraidini Shaibub, to Mr. Maalouf, to brother Nathir and his wife, and to the author of the Encyclopedia whose name I have, unfortunately, forgotten.
I hope to hear soon your opinion of my poem. I hope that you will also correct its mistakes.
Take care for your loving brother,
Al-Sayyab
P.S. Do you have any news on Nazik al-Mala'ika and Salma al-Jayyusi? What are they doing?
[From the book, al-Sayyab's Letters, by Majid al-Samurra'i, (Beirut: Al-Mu'assasa al-'Arabiya li-al-dirasat wa-al-Nashr, Second Edition, 1994, p. 138) Translated from the original Arabic and with an introduction by George Nicolas El-Hage, Ph.D., Columbia University.]
Leave a Reply
You must be logged in to post a comment.