Mon 8 Oct 2007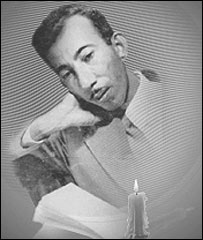 The Iraqi Poet Badr Shakir al-Sayyab
[Note: This is the sixth in a series of translations of selected letters of the noted Iraqi poet Badr Shakir al-Sayyab. For more information on the poet, click here.]
Letter #6 3/4/1956
Directorate of Public Trading, Baghdad
My Kind Brother, Dr. Suheil (Idris),
Sweet Arab greetings to you. Yesterday I received your kind letter and welcomed your decision to entrust "the reading of the previous issue" to Mr. Abdul Sabour. We hope that he will be fair in his criticism. Otherwise, our pens are ready, and we look forward to the precious opportunity to reevaluate much of the criteria and points of view. This is my opinion and it is also shared with our brother, Muhyyi al-Din (Ismai'l).
As for our brother, Kathem (Jawad), he blames you because you entrusted the "reading" of the issue of al-Adaab to "a person who is even ignorant of prosody," but we, brother Muhyyi al-Din and I, have convinced him of the importance of the rationale that prompted you to do this: namely, to reveal the truth through the struggle between values and criteria. As of yet, we have not seen the last issue of "al-Adaab" – we have learned from trusted sources that it will imminently appear in the market.
You will find a poem with this letter … Rather; it is an attempt to write poetry in a new style: it is up to the reader to discern the meaning of the symbols or not to see any symbols at all. The reader may see in "Tammuz" a symbol of fertility and life, and in his death, the death of fertility and growth. And in Marjana, there is much more than what appears on the surface. She is the Negro who is unaware of her heritage, and who turns on the light and radio for her mistress so that her mistress may "be in touch" with the world and listen to Jazz music [Marjana's heritage] – which the mistress and her cohorts consider "the ultimate" in taste and "culture."
The reader may compare the ambulance at the beginning of the poem to the hearse at the end, and he can also compare the fish made of gold and silver to the dead fish that al-Khidr threw into "the sea of life"and which came back alive.
The reader may or may not make these comparisons. – This is an attempt on my part, but I cannot claim to have been successful. Would this poem find a place in the pages of al-Adaab? I hope so.
We were very happy to learn from our brother, (Khalid) al-Shawwaf that you intend to visit Iraq. You are most welcome in your homeland, among your people and your brothers.
"al-Adaab" has been a powerful agent in the success of "Dar al-'Ilm Lilmalayyin." By independently taking over the management of al-Adaab, you will acquire greater moral and financial gain over any loss that you might incur – assuming there would be any loss at all.
I thank you for your generous offer. I will make arrangements from now to prepare a volume of poetry, and I have entrusted our brother, Muhyyi al-Din (Ismai'l), to write an introduction for it. I will ensure that it resembles the books that appear in Iraq.
"Some people" have told me – in a challenging tone- that their magazine, the "National" Culture, will include a long article attacking me. I beg of you, when such an article appears, to cut it out of the magazine and send it to me by registered mail so that I may have an opportunity to respond to it. I will write a response that will avenge every intellectual who has been harmed by this magazine and its likes.
In conclusion, please give my greetings to all the brothers, and accept the greetings of our brothers, Muhyyi al-Din, Kathim, al-Shawwaf, al-Huly and al-Naqdi.
Take care of yourself.
Sincerely yours,
Badr al-Sayyab
[From the book, al-Sayyab's Letters, by Majid al-Samurra'i, (Beirut: Al-Mu'assasa al-'Arabiya li-al-dirasat wa-al-Nashr, Second Edition, 1994, p. 123) Translated from the original Arabic and with an introduction by George Nicolas El-Hage, Ph.D., Columbia University.]
Leave a Reply
You must be logged in to post a comment.