Tue 19 Jan 2016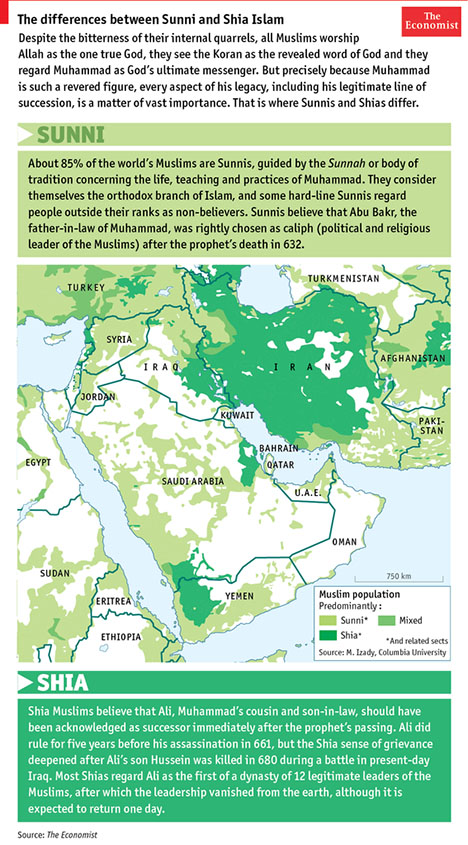 by Omid Safi (@ostadjaan), On Being columnist, January 7, 2016
In the last few days, virtually every news outlet has featured a series of stories on the rising tensions between Iran and Saudi Arabia. The conflict by now is well-known: Saudi Arabia executed 47 people, including Shi'i cleric Nimr al-Nimr. While both Iran and Saudi Arabia are among the worst global executioners of dissidents, the sheer size of these executions was rare even by their gruesome standards. Iran retaliated through bombastic rhetoric, stating, "God's hand of retaliation will grip the neck of Saudi politicians." The two countries have broken off diplomatic relations, a tension that has rippled across the region.
The New York Times, arguably the most respected newspaper in America, featured a primer on the conflict that was devoted mostly to discussing succession disputes to the Prophet Muhammad that in due time led to the rise of the Sunni and Shi'a sects. The Guardian has devoted a long section to this conflict. So has The Economist.
There are many political scientists and public policy pundits that you can turn to for grasping the geopolitics of the situation. You can listen to Vali Nasr, dean of Johns Hopkins School of Advanced International Studies, with NPR's Renee Montaigne, and on PRI's The World. But as a scholar of religion, let me share a few points that I think might be useful to keep in mind to think intelligently — and I trust, compassionately — through this latest conflict.
One. In order to understand this conflict, do not start with Sunni/Shi'a seventh century succession disputes to Prophet. This is a modern dispute, not one whose answers you are going to find in pre-modern books of religious history and theology. Think about how absurd it would be if we were discussing a political conflict between the U.S. and Russia, and instead of having political scientists we brought on people to talk about the historical genesis of the Greek Orthodox Church.
Probably the most succinct elaboration of this point came from Marc Lynch:
"The idea of an unending, primordial conflict between Sunnis and Shiites explains little about the ebbs and flows of regional politics. This is not a resurgence of a 1,400-year-old conflict."
The attempt to explain the Iranian/Saudi conflict, or for that matter every Middle Eastern conflict, in purely religious terms is part of an ongoing Orientalist imagination that depicts these societies as ancient, unchanging, un-modern societies where religion is the sole determining factor (allegedly unlike an imagined "us," who have managed to become modern and secular.) Watch this four-part series by the late, great Edward Said on how Orientalism operates (skip the introduction):
There is no disputing that religion is a factor in understanding the Middle East. In some conflicts, it might even be a primary factor. But it is never, ever the only factor. Most often it is the other factors (history, economics, ideology, demographics) that are much more important.
Religion, religious traditions, and human societies never stay static and unchanging. There is no such thing as an eternal, unchanging human tradition.
For the rest of this commentary, click here.