Wed 26 Aug 2015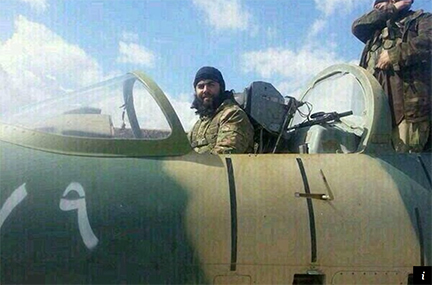 A member of ISIS poses in a fighter jet similar to those used in the Prophet's time.
By Haroon Moghul, Religion Dispatches, August 24, 2015
Last week, The New York Times' Rukmini Callimachi published "A Theology of Rape," a report as important as it is horrifying. Unfortunately, like several recent exposés on the Islamic State in Iraq and Syria (ISIS), including Graeme Wood's website-busting What ISIS Really Wants, Callimachi's reporting is unusually receptive to the movement's claims. Namely, that plausible Islamic arguments can be made for slavery, rape, and other crimes.
In support of his own argument that ISIS isn't just "Islamic," but "very Islamic," Wood cited Princeton academic Bernard Haykel who insists that anyone who denies ISIS' Islamic authenticity is being disingenuous (who says this is never elaborated on). Wood then proceeded to analyze ISIS' "Islamicity" based almost entirely on Haykel, several fringe Muslim scholars, ISIS sympathizers, and no mainstream voices.
This is a problem. Journalist Murtaza Hussain explains that, "We invariably view conflicts involving Muslim groups as being driven primarily by atavistic religious beliefs." Which is why, he adds, we jump to "texts and ideology to explain contemporary events. We don't do this with the recent Israeli war on Gaza, even though that conflict also contains clear religious connotations and justifications."
Only weeks ago Jewish radicals lit a house on fire and burned a Palestinian child to death. Last year another Palestinian child was burned alive. Yet I don't recall articles in the Times, the Atlantic or any other popular media assessing the act's conformity with Judaism, or arguing that "price tag" attacks are not just "Jewish," but "very Jewish." There are, in fact, radical Jewish sects who preach indiscriminate violence citing G-d and the Torah, but these claims are not entertained as serious.
"ISIS," laments Hussain, "has been granted full civilizational power to speak for and represent Islam."

For the rest of this article, click here.