Fri 21 Feb 2014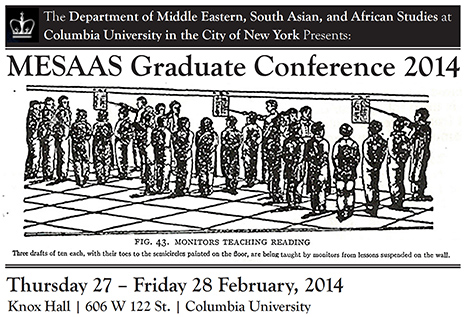 For more information on this upcoming conference at Columbia University, click here.
THURSDAY 27
8.30 – 9.30 am: Registration (Knox Lobby) and Light Breakfast (Knox 207 and 208)
9.30 – 10.30 am: Welcome Remarks (Matan Cohen) and Plenary Address (Sudipta Kaviraj) – Knox 208
SESSION 1: 10.45 am – 12.45 pm
Scanning the Shelves of the African Islamic Library – Knox 207
Wendell Marsh
Reading Sudanic Africa in the Margins: the Perils of Commentary
Kimberly Wortmann
Intellectual Cartographies in the Medieval Western Sahel (c. 1464-1627)
Ariela Marcus-Sells
Spells and Prayers: Discussing Muslim Practice in Saharan Society
Lori De Lucia
On the Edges of Mediterranean History: Finding Evidence for Sub-Saharan African Narratives in the 16th Century Kingdom of Naples
Discussant: Mamadou Diouf
Moderator: Tommaso Manfredini
Narrating Progress – Knox 208
Bader al-Saif
Surveying Thaqafat al-Takhalluf in Modern & Contemporary Arabic Literature: an Intellectual Historiography
Taylor Moore
"Superstitious Women": Cultivating the Upper Egyptian Fellaha in SemiColonial Egypt
Andrew Stedman Alger
Religious Education and Revolution in Hashemite Iraq
Yasmine Djerbal
Gender, Nation and Postcolonial Contexts: An Algerian Experience
Discussant: Sudipta Kaviraj
Moderator: Sohini Pillai
1 – 1.45 pm: Lunch – Knox 207 & 208
SESSION 2: 2 -4 PM
Islam, Modernity and Political Form: The Impossible State – Knox 207
Hasan Azad
"The Islamic State is Not a Dream": Hizb ut-Tahrir's Thinking Through the Modern State
Kamal Soleimani
Islamist Arab Nationalism: The Arab-Centrism of Islamic Political Thought between the late 19th and Early 20th Centuries
Yuenmei Wong
Shari'a-Queers: Islamic Law and the Construction of New Muslims' Sexual Identities in Malaysia
Discussant: Wael Hallaq
Moderator: Neda Bolourchi
Locating Culture – Knox 208
Mina Khanlarzadeh
Lalehzari Music: Unsung artists of Iranian song
Salha Reema Fadda
The Political Economy of Cultural Intervention in Palestine
Katie Logan
Google It: Virtual Maps and the Anxieties of Forgetting in Modern Arabic Literature
Discussant: Muhsin al-Musawi
Moderator: Sarah Hawas
Racialized Cartographies – Knox 403
Vishal Kamath
Hybridity and Spatial Imagination in the Persian Gulf: Locating the Banu Ka'b Arabs from 1707 to 1775
Pascal Missak Abidor
Genealogy of a Geography: Jabal Amiil between 'Asabiya and Wataniya
Owain Lawson
"History is Merely a Bird of Passage": Environmental Determinism, Racialization, and Nationalism in Mandate Lebanon
Andrea Daniel Rosengarten
Other "Coloureds": Categorization and Identity of Colonial Namibia's Mixed-Race Communities,
1914-1939
Moderator: Andrew Ollett
SESSION 3: 4.15 – 6.15 PM
Education, Knowledge, and Modernity – Knox 207
Salmaan Mirza
Preaching Business Education
Kenan Tekin
Knowledge and Social Imaginary in the Early Modern Ottoman Empire: Sacaklizade and Yahya Nevi's Organization of Disciplines
Shaadi Khoury
Al-Hilal's Survey of 1919-1920 and the Nahda's Contentious Language Debate
Discussant: Linda Sayed
Moderator: Casey Primel
Humor and Re-Appropriation in Palestinian and Hebrew Literatures – Knox 208
Danielle Drori
What's Funny about Mistranslation?: The First Translation of Don-Quixote into Hebrew
Liron Mor
What's Funny about Occupation?: Re-appropriations in Imil Habibi's Pessopsimist
Discussant: Dan Miron
Moderator: Roni Henig
Islamic Reform in Modern Thought and Politics – Knox 403
Jacob Olidort
The Mosque as Message: Albani and the Politicization of Piety in 1950's Damascus
Ayse Betul Tekin
Muhammad Abduh's Approach to Religion: Between Tradition and Modernity
Zahra Sabri
Citizen Khan and the Face of Non-'fundamentalist' Islam in Pakistan today
Hossein Kamaly
Angela Giordani
7 pm: Dinner – Location TBA
FRIDAY 28
8.30 – 9.30 am: Registration (Knox Lobby) & Light Breakfast (Knox 207 & 208)
SESSION 4: 9.15 – 11.15 AM
Colonizing Strategies – Knox 207
Abhijit Sarkar
The State in the Kitchen: State-Intervention in Food and Popular Responses in Wartime India (1939-45)
Oscar Jarzmik
"Adjusting to Powerlessness" in Occupied Jerusalem: Ethnopsychiatry and the Organizing Principles of Municipal Policy after the June 1967 War
Hashim Bin Rashid
Enclosing the River Indus
Noa Shaindlinger
Point of No Return
Discussant: Michael Griffiths
Moderator: Matan Cohen
Classical Islam: Ethics, Language and Epistemology – Knox 403
Osman YILMAZ
A Dating of al-Suyûtî's Grammatical Khilâf Book
Antonia Sigrid Bosanquet
The Polemics of Here and There: Place, Space and Telling in Aḥkām Ahl al-Dhimma
Giovanni Carrera
The Epistemological Role of Language in al-Rāzī's hermeneutics
Discussant: Katharina Ivanyi
Moderator: Sohaib Khan
SESSION 5: 11.30 AM – 1.30 PM
Regimes of Labor – Knox 403
Claudie Fioroni
From "Politics of Work" to "Politics at Work": An Analysis of Subjection Processes at the Jordan Phosphate Mine Company
Cihan Tekay
The State, Global Capital and Women Workers in Turkey: A Case Study of the 2006-2007 Novamed Strike
Matan Kaminer
The Wages of Agricultural Work in Israel
Li Xiaoyue
Illness as Discourse-Medical Representations of Worker's Diseases
Discussant: Timothy Mitchell
Moderator: Matthew Ghazarian
Visual Politics – Knox 207
Hira Nabi
Between Islam and Cinema in Pakistan: Spectacle and Jaloos
Taylor Zajicek
Capturing Turkish-Soviet Convergence on Film
Nour K Sacranie
Alternative Remembrances: Memory, History and the Civil War in Contemporary Lebanese Art
Anna Dowell
Of Bodies and Buildings: Reading Claims to Citizenship and Grievability in Images of Violence
Discussant: TBA
Moderator: Farbod Honarpisheh
Rethinking the Political – Knox 208
Ahmed Dardir
Martyr Genealogies: The Practice of al Khawarij and Umm al Mu'minin as Subjugated Knowledge
Matan Cohen
Disengaged Lives: Palestine and the Question of Vulnerability
Anna-Esther Younes
The New Europe and the Figure of the Jew
Marianna Reis
Strategies of Legitimization: Deploying Palestinians as Israeli Arab Agents of the Zionist State
Discussant: Judith Butler
Moderator: Nasser Abourahme
1.30 – 3.30 pm: Lunch – Knox 207 & 208
SESSION 6: 3.30 – 5.30 PM
Islamic Law and Jurisprudence – Knox 207
Rahile Yilmaz
Criticizing Muslim Traditions: A Critical Analysis of Muslim and Western Academic Approaches to the Study of Ḥadīth
Mohammad Syifa Amin Widigdo
Imām al-Ḥaramayn al-Juwaynī on Jadal: Theological-Juridical Dialectic in the Eleventh Century Nishapur
Omar Farahat
Divine Command Ethics in the Jurisprudence of Abū Bakr b. al-Bāqillānī
Sohaib Khan
Efficiency Matters: Virtues of Maximization and the Moral Failings of Islamic Banking and Finance
Discussant: TBA
Moderator: Omar Farahat
Modern Ottoman History: Urban Politics and Regional Growth – Knox 208
Koca Mehmet Kentel
Cosmopolitanism over Dead Bodies: Subway, Cemetery, Garden and Urban Dualities in the Late 19th Century Istanbul
Jeffery Dyer
The Growth of an Ottoman Consular Network in the Indian Ocean, 1849-1914
Baris Tasyakan
The Politics of Fire: Ottoman Istanbul in the Late Eighteenth Century
Nora Cherishian Lessersohn
'Provincial Cosmopolitanism' in Late Ottoman Anatolia: Recovering Armenian Complexity through Hovhannes Cherishian's (1886-1967) Memoir
Discussant: Christine Philiou
Moderator: Kenan Tekin
Medieval Arts and Sciences – Knox 403
Owen Cornwall
Alexander and the Astrolabe in India
Naveen Kanalu
Mārga/ Desi or the 'Path' and the 'Country' in Vernacularization: The Shaping of Pre-modern Kannada Literary Culture
Marcela Schlueter
To the Letter: Examining Paratextuality and Pedagogy in the Letters of Abū'l Qāsim al-Junayd, Jalāl ad-Dīn Muhammad Rūmī, and Niẓāmuddīn Auliyā
Discussant: Mana Kia
Moderator: Kyle Schirmann
6 – 7 pm: Keynote Session – 501 Schermerhorn
Introduction: Wendell Marsh.
Keynote Address: Ruth Marshall, "Global" Christianity in the Postcolony: Reflections on the Politics of Knowledge
7.30 pm: Dinner
Location TBA