Tue 24 Dec 2013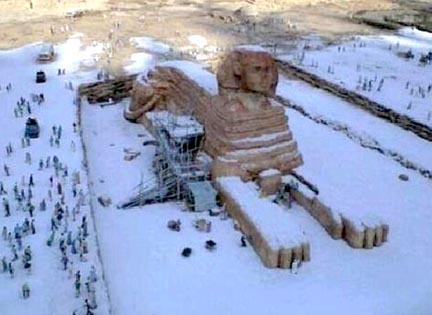 Snow at the Sphinx
As the above photograph shows, even the treasured sands of Egypt are not immune to Mother Nature's cold warnings. Snow is rare in Egypt and when it falls there is certain to be much interest in what such a climatic omen portends, especially given the mystery that surrounds the Sphinx. After Napoleon's invasion, unsuccessful as it was from a military standpoint, Egyptomania raged in Europe. There are many poems, as well as paintings, that draw an Orientalist view of the region. Even Mark Twain set down Tom Sawyer over the pyramids. On this Christmas Eve, when the birth of Christ is celebrated throughout the world, including Egypt, it is well to remember that mystery is in the air. Given that General Sisi has admitted that his climb to power was foreordained in a dream, the mysteries coming out of Egypt are as alive as ever.
Oscar Wilde is probably not a name anyone would associate with the night before Christmas. But he did write a semi-humorous and rather long poem in 1894 entitled "the Sphinx." The whole version can be found here, but I excerpt a few lines to assist in the holiday spirit:
A thousand weary centuries
Are thine, while I have hardly seen
Some twenty summers cast their green
For Autumn's gaudy liveries.

But you can read the Hieroglyphs
On the great sandstone obelisks,
And you have talked with Basilisks
And you have looked on Hippogriffs.

O tell me, were you standing by
When Isis to Osiris knelt?
And did you watch the Egyptian melt
Her union for Antony,

And drink the jewel-drunken wine,
And bend her head in mimic awe
To see the huge proconsul draw
The salted tunny from the brine?

And did you mark the Cyprian kiss
With Adon on his catafalque?
And did you follow Amanalk,
The God of Heliopolis?

And did you talk with Thoth, and did
You hear the moon-horned Io weep?
And know the painted kings who sleep
Beneath the wedge-shaped Pyramid?

Lift up your large black satin eyes
Which are like cushions where one sinks!
Fawn at my feet, fantastic Sphinx!
And sing me all your memories!

Sing to me of the Jewish maid
Who wandered with the Holy Child,
And how you led them through the wild,
And how they slept beneath your shade.