Wed 23 Oct 2013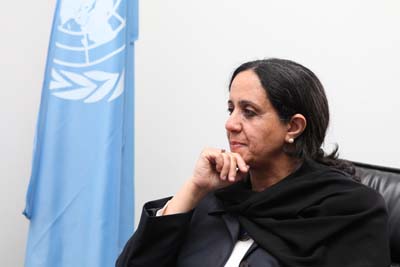 The Middle Eastern and Central Asian Studies Program of Hofstra University is pleased to announce a public talk by the Yemeni diplomat Amat al-Alim al-Soswa, who will be speaking about her recent work on Yemen's National Dialogue. Details are provided here. This will take place on campus in 101 Barnard Hall on Thursday, October 24 from 2:20-3:45. For more information, please contact me at daniel.m.varisco@hofstra.edu.
Since March 2013 , Amat Al-Alim Alsoswa has been a member of the Yemen National Dialogue Conference and a member of its State Building Team. She also chaired a subcommittee to prepare and suggest the criteria and term of reference for the constitutional drafting committee.
She was appointed in December 2005 by United Nations Secretary-General Kofi Annan as Assistant Secretary-General, Assistant Administrator of the United Nations Development Programme and Director of its Regional Bureau for Arab States. In this post, Alsoswa has led UNDP's 18 programme offices in the Arab region in their efforts to develop national capacities for poverty reduction, democratic governance, sustainable development, crisis prevention and recovery, and women's empowerment. She has also provided regional thought leadership through the launching of two editions of the Arab Human Development Report, in 2006 and 2009, and in the preparation of the for the 2012 edition.
Before that, she served in her native country, Yemen, in various leadership positions in the public and private spheres. From 2003 to 2005 , she served as the first female Minister for Human Rights, developing the mandate and capacities of that institution and leading such efforts as the production of the country's first National Human Rights, the holding of televised public hearings on international reports on Yemen's Human Rights record, and the establishment of a human rights resource center open to the public .
Prior to that post, and between 2000- 2003, Alsoswa served as her country's first female Resident Ambassador for Yemen to the Kingdom of the Netherlands, and non-resident Ambassador to the Kingdom of Sweden, and Kingdom of Denmark .
From 1997 to 1999, she served as Undersecretary in the Ministry of Information, where she created and oversaw Moutaba'at elamiah, a monthly journal providing a platform for consultation and debate on media matters and the fulfillment of freedom of expression. She also served as the Chair of the Yemen's first Women's National Committee from 1997 working with women's groups and other stakeholders to advance women's empowerment across the country.
Prior to public service, Alsoswa led the Yemeni Women's Union from 1989-1991, and enjoyed a wide -ranging career as a journalist, starting with radio contributions at the age of ten and culminating with the position of Deputy Director of Programs at Sana'a TV from 1984- 1986 .During that same period, Alsoswa was also a Visiting Lecturer at Sana'a University in the Political Science Department. She has lectured extensively at world class universities , think tanks and research institutions.
Her achievements have been recognized by many national and international, public and private institutions, including the Government of France, which in 2004 awarded her the rank of Officer of the Order National de la Légion d'honneur, and the Washington-based National Democratic Institute, which presented her the 2004 W. Avrell Herman Democracy Award.
Alsoswa holds a BA in Mass Communication from Cairo University and an M.A in International Communications from the American University in Washington , DC . She is married and a mother of two children.