Sun 9 Dec 2012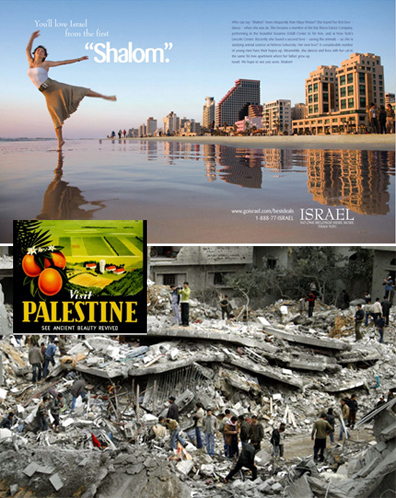 In today's New York Times, drive-my-Lexus-over-olive-branch journalist Thomas Friedman posts a column entitled The Full Israeli Experience. Having read the headlines in The Jerusalem Post, he begins his commentary on the violence in Egypt, Syria, and Tunisia alongside a missile defense drill in Israel. Through it all, muses the journalist, the Ministry of Tourism invites all comers to visit Israel for the "full Israeli experience." Here is the gist:
The full Israeli experience today is a living political science experiment. How does a country deal with failed or failing state authority on four of its borders — Gaza, South Lebanon, Syria and the Sinai Desert of Egypt — each of which is now crawling with nonstate actors nested among civilians and armed with rockets. How should Israel and its friends think about this "Israeli experience" and connect it with the ever-present question of Israeli-Palestinian peace?
Ah, yes, poor Israel, mired in a political science experiment in which ideological hawks are pitbullied against "bastards for peace." The idea that internal Israeli politics could as easily be characterized as doves vs "bastards for war" does not occur to Friedman, nor does he ever seem to fill out his own experience by reading Haaretz or conferring with Palestinian leaders, at least not to describe the "full" Israeli experience. To the extent Israel is an experiment, it cannot be fully understood without considering how Palestinians fare in this experimental realkpolitik. If Gaza is "crawling with nonstate actors", is it not relevant that the Palestinians are denied the status of a state and Israel maintains an occupation with little sign of ever stopping its conquest by settlement policy.
If the question of the day is "Do you understand what neighborhood I am living in?,"
then it might be better journalism to actually talk to the neighbors rather than just the guys with the guns, butter and tourist guides. The problem is that most Americans do not know the "hood" that Palestinians are forced to live in. To understand even the partial Palestinian experience, take a population that has no right to self-determination, even when it is only a UN-sanctioned symbolic act. Land is confiscated so new walled Israeli settlements can be built, because this is land promised to Abraham's seed lo those many biblical centuries ago. Joshua, icon of the IDF in the service of Abraham's promise, blew the trumpets and the walls of Jericho came tumbling down (at least in the minds of those who pay no attention to archaeological findings), but Israel today builds walls to keep the current Canaanites out. Palestinians live in a neighborhood where they need permission to go just about anywhere, where roads are closed to them, where they are so demonstrably persona non grata that even a foreign journalist might be tempted to acknowledge this.
There is another burning-bush question for Friedman: "If you appreciate that Israel lives in a neighborhood where there is no mercy for the weak, how should we expect Israel to act?" The irony in this statement is staggering. Who exactly is "weak" in this neighborhood, if not the Palestinians, especially in Gaza? Is there any sane way to compare lobbing small missiles haphazardly in the direction of Tel Aviv against an Iron Dome with the military arsenal that the IDF brings to bear against Gazans? In a country where the leadership favors hawks and those who dream of peace are labeled "bastards," who is most in need of mercy? Well, Mr. Friedman, much of the world looks at the entrenched conflict between Israel and the Palestinians as decidedly one-sided, aided and abetted with unilateral American military support. Is it really too much to ask that Israel act in a humane and responsible way, given their unmatched military and economic power, not to mention a vibrant ethical tradition? Is it really too much to ask that a journalist fully understand the experience of all these neighbors before writing a press release for the current Israeli government?
One Response to "The Full Palestinian Experience"
Matthew Sinn Says:
December 9th, 2012 at 12:52 pm

Slicing, let alone solving, the Israeli-Palestinian Conflict in the absence of an unsatisfactory conclusion for at least one of the parties now seems to me to be effectively impossible, given present circumstances. Consider that it took most of a half-century to suffer past the previous paradigm — the [i]Arab-Israeli Conflict[/i].

If that sounds historically deterministic — cynically abjuring faith in particular leaders or current political constellations — that's because it is. The State of Israel is one of the few polities on Earth to have been established by military conquest since the Second World War. Everywhere else, populations like the Palestinians — those on the "losing" side of the shooting war — were unhappily subsumed, expelled, marginalized, or simply massacred.

A "two-state solution" is chimerical at best, delusional at worst. The West Bank and Gaza Strip are the Bantustans of the twenty-first century — either dismal labor camps for the dispossessed and their increasingly hopeless descendants, or "erased spaces" where inconvenient people are shuffled off so that Israel need not confront the impossibility of creating a Jewish state peopled in large part by Muslims, many of whom have turned to Islam as a source for political solutions. In both cases, the Palestinian Territories remain a vulnerable underbelly for neighboring Israel. Israel's burdens have deepened substantially since the 1970s. In trading Sinai for peace, they successfully bought themselves military security in a dangerous neighborhood, but at the cost of strategic depth and a popular outlet for Messianic settlement, not to mention the economic value of untapped oil reserves and tourism at Sharm-el-Shayk. In failing to prop up and sustain their Christian Phalangist allies in Lebanon, they failed to establish not only a buffer zone for their vulnerable northern tier, but other sectarian states that might have been taken by the international community to confirm the notion that this part of the world was incapable of peaceful coexistence. (It is probable that a Christian Lebanon would also have been a going obsession for the the Christian Right in the United States.) By walling themselves away from the problem, Israel bought political breathing space: in the absence of civilian suffering, there was little impetus for peace, especially as demographics began to favor territorially maximalist politics. The Left has essentially collapsed in Israel.

But it is the Palestinians that have given Israel the most over the years. I guess we could have a pretty intense argument over whether Palestinians could get more by being massacred than massacring. About whether, in dignified suffering, they would have provoked more international outrage than that which is aroused whenever Israel ham-handedly engages in strategic retaliation. There is a strong case to be made that terrorism, when combined with the oil embargo of 1973, helped to alter European perceptions about the value of a relationship with Israel. But, especially after September 11, and with regard to Israel's strongest international ally, the Palestinians have attracted less sympathy, I think, than they might have otherwise.

Of course, the Palestinians don't have much incentive to negotiate. What would a two-state solution get them? Could any new Palestinian government really expect to clamp down on rejectionist violence to the point that Israel would restrain itself from hot pursuit, retaliation against Palestinian infrastructure, or even renewed settlement? Even if a Palestinian state did get off its feet, what then? The sole national resource would be human labor. Does that point to the likelihood that Palestinians will be satisfied with merely a piece of the pie?

And why should Israel negotiate? If the avowed goal is to have a Jewish State when all is said and done, then inclusive popular democracy certainly isn't a feasible solution. Some Jewish Israelis might be amenable to a secular state, but I doubt there is much enthusiasm for taking meaningful steps in that direction. Palestinian maximalists aren't going anywhere anytime soon, meaning that a secular state will still be laid open to horrible violence. It's worth observing, too, that the southern African experience offers less-than-compelling clues about some of the difficulties that would doubtless attend any solution both deep and broad.

I don't know if you've read [i]From Beirut to Jerusalem[/i], but if you haven't, Friedman essentially spells out his conviction that the roots of the regional conflict between faiths lie in the shared experience of inter-tribal warfare in a hostile environment where he who did not act ruthlessly, both to preempt and punish, was effectively signing his own death warrant, and those of the members of his clan. This attitude, Friedman argues, has been demonstrated time and again since the end of colonial occupation, and is reinforced by every new bullet and bomb. I don't necessarily subscribe to Friedman's analysis, but I do perceive that, from the Israeli point of view, the biggest payoffs in recent years have tended to come from allowing the Palestinians to vilify themselves in the eyes of the West, then acting to eliminate the capacity for meaningful terrorism, thereby (A) reducing political pressure for long-term compromise from the outside, and (B) reducing political vulnerability on the inside. In this way, the peace process — which can only involve painful, unwelcome concessions for Israel — is kicked down the road.
Leave a Reply
You must be logged in to post a comment.