Mon 12 Nov 2012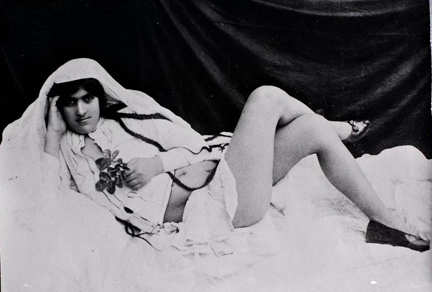 Portrait of a lying woman, Antoine Sevruguin, Iran, 1901 (geheugenvannederland.nl).
If a picture is worth a thousand words, then one like this century-old photograph taken in Iran will leave the reviewer with no loss for words. Here is the quintessential native Ottoman Era odalisque to ogle at. A number of enticing props are they as well: the flowers in hand, the shoes on the bed at the end of a curvaceous bottom in corso flowing down the exposed torso, the half-hidden belly button, long pigtails and dark kohl-laced eyes. Not only is this figure exposed to the viewer, but she engages with a direct gaze, using a hand to cradle her head. Here, visually presented, is the Orient represented: a luscious and willing consort for the taking.
The photograph above is part of a series of Ottoman Era images from the Ottoman History Podcast, a radio program and Facebook site based in The Netherlands. The site has a splendid selection of photographs from the Ottoman Era, the vast majority of which are not odalisque cheesecake, and it is well worth perusing.
Regarding the photograph above, here is how the Facebook site describes it:
This image sparked a bit of conversation on our website regarding the gender of the subject, leaving us with more questions than answers. The photo was taken in Iran by Antoine Sevruguin, Georgian-Iranian photographer in the employ of Nasir al-Din Shah Qajar. Photographers who visited the Middle East produced no shortage of eroticized images of the Orient such as this. The subject in this particular photograph stands out for many reasons, among them the confident and almost defiant gaze. In fact, we find much different expressions and more degrading poses in much of the fin de siècle Orientalist erotica, which could have scarcely stood as a more literal representation of European fantasies of the East with its bathing odalisques, naked peasant girls, and bare-chested women in full niqab.
Leave a Reply
You must be logged in to post a comment.