Mon 30 Jul 2012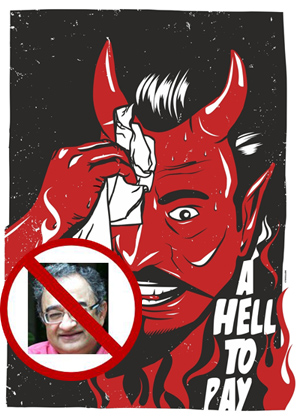 It as heartening to note that several prominent Republican politicians, especially John McCain, immediately repudiated the offensive letter that Michele Bachmann and several of her tea-party ilk sent on official House letterhead to government agencies asking for an investigation of Huma Abedin, a well-respected professional aide to Secretary of State Hillary Clinton. When the news first unfolded, I was pleased to applaud the range of reaction in a previous post. Then on July 24, Tarek Fateh published a commentary in the neocon tabloid Toronto Sun called "Beating Up on Bachman." My initial thought was to ignore the piece altogether, but then it was picked up, in a longer version no less, by the Huffington Post, which generally does not promote neocon causes. But I suppose Huff Post and the Toronto Sun do share something in common: the Toronto Sun's daily sunshine-drenched pin-up girls and Huff Post's penchant to dwell on the arousing apparel of superstar actresses.
Tarek Fateh is a prolific op-ed writer of the kind that rarely provides edification and almost always proffers conspiratorial rumors. He is, in effect, the Fouad Ajami of Canada. I will pass on his argument, which is innuendo in defense of offensive innuendo, and focus on one statement, which is a gem:
To put this in context, imagine a political aide to Henry Kissinger being the daughter of two members of the Soviet communist party politburo. There would have been hell to pay.
Hell to pay? This is a helluva stretch. Well, let's put this dangling metaphor into context. There is no evidence anywhere that the parents of Huma Abedin ever held major official roles in the Muslim Brotherhood, either as loosely defined by Fateh and his neocon artists for virtually all conservative Muslims. No one has come up with inflammatory rhetoric by either her father or mother that encouraged "jihad" (civilized or not) against the United States. The Muslim Brotherhood has been attacked by militants as not advocating jihad; unless being conservative is anti-American, it is not clear what would make the official Muslim Brotherhood a terrorist organization any more than being a Mormon or Jehovah's Witness would. I assume Fateh is referring to the Political Bureau of the Central Committee of the Communist Party of the Soviet Union, which consisted of fourteen full and eight candidate members and was the main decision-making body of the Soviet regime. It was a very select and secretive authoritarian group. Since neither of Huma's parents held even minimal roles in the administrative structure of the Muslim Brotherhood, this is a classic fallacy of guilt by broad association. I would call it slick degrees of separation.
Huma's mother, Saleha Mahmood Abedin, is Director of the Institute of Muslim Minority Affairs in London. She has a 1977 Ph.D. in sociology from the University of Pennsylvania, my alma mater. She has been at the forefront of advocating women's rights in Islam as a conservative for decades. She serves as Co-Chair of the Global Peace Initiative of Women, an interfaith advocacy group. The Institute for Muslim Minority Affairs, based in London and at one point headed by Huma's father, is hardly a hotbed of jihadi rhetoric. Its journal publishes scholarly articles on Muslim minorities, even reporting abuses against Muslims in Islamic states. The Board of Directors includes several distinguished Western scholars, including anthropologist Dale Eickelman, political scientist James Piscatori and Religious Studies scholar John Esposito. Also on the board is Allan Christelow of Idaho State University, which even Tarek Fateh might find hard to identify as a haven of liberal terrorist-loving thought.
As for Huma's father, who is deceased and thus not able to defend his reputation as a respected Muslim intellectual, let his own words answer Fateh's flawed screed: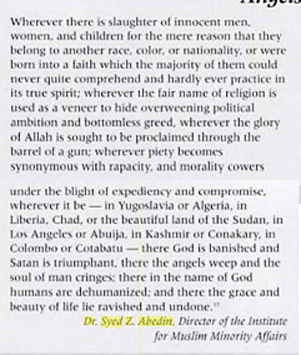 One Response to "Hell to Pay?"
Sylvia Says:
July 30th, 2012 at 5:21 pm

Well written, Dan.
Leave a Reply
You must be logged in to post a comment.