Mon 23 Apr 2012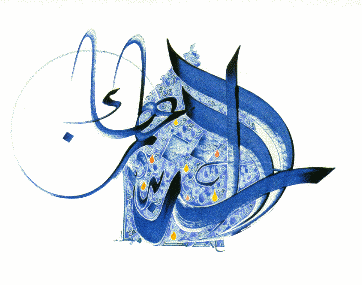 Calligraphy by Hassan Massoudy, an Iraqi artist based in Paris
by Omid Safi, Religion News Service, April 22, 2011
On Thursday, I went to the funeral of a 16-year old angel.
This was not a child, faceless and nameless, that you see buried in a newspaper. This was a child born to a family that I adore, a family whose whole lives has been spent in service to humanity. I was there when this angel came home from the hospital, and I used to babysit her when her mother, a leading scholar of Islamic studies, was finishing her PhD.
This was a child that every one of her teachers called the single most brilliant, creative, and inspiring child they had ever taught.
We put her body in the ground, the machines lowered a cement block on top of the coffin, and each of us scattered a handful of dirt, a rose, and tears, on her grave. Her adopted aunts and uncles sat by the graveside, and recited Qur'an verses to keep her soul company on the journey back to God.
We wept as few of us have ever wept before. We have not stopped crying. This is the kind of weeping that taps into a shattering of a heart.
High school kids with tattoos and dyed hair wept. Those of us who are parents wept for this child, for this family, confronting what is every parent's absolute worst nightmare. Teachers wept.
Her mother stood up before us, beginning in the name of God, and catching her breath several times as she spoke through tears, softly and clearly. She thanked God for the gift of this beautiful child, for each one of the 16 years. She acknowledged that each of us felt that parents should not bury their own children, but we are not given any guarantees. She said gracefully that while she "strongly disagrees" with God's plan to call her angel home, she abides in faith and is grateful.
I am a scholar of religion. Pondering these large questions of life—and sadly, death—is what I do, what I am supposed to do. I have looked into my own tradition, Islam, as well as Christianity, Judaism, Buddhism, and others, to find some semblance of explanation, of meaning.
I have looked back at the works of sages, including those of Dr. King when he had to give the eulogy for the young girls killed in the Sixteenth Street Baptist Church, in Birmingham, Alabama. I am a child of Martin, and yet I have to confess that in his words I didn't find the ultimate answer, the "why" answer to the question that our burning heart asks: why do the most beautiful of souls leave us so often, so quickly.
So I sit here today, with the first words I have written since. First words since trusting this child of God to God's earth, and hoping and praying to see this sweet child again, luminous and risen, enfolded and embraced by God's own presence.
The parents of this beautiful child are people of faith. They are the pillars of their faith community, and an inspiration to all who know them. These are the very best of people, and here is the worst of fates happening to the best of people. And I have no answers, no ultimate explanations.
And yet, and yet, maybe it's too much to ask for religion to give us the "why" answer.
Maybe what it can provide us with is not the answer, but simply a reminder that as the Biblical traditions teaches us, that when we walk through the valley of death, God is with us. Maybe it reminds us that as the Islamic tradition reminds us, God is indeed close to the broken-hearted.
Maybe faith tells us not the "why", but the how to move through pain and death.
Dozens of time during the day I held the mother and the father, beloved friends, and asked them how they are doing. At times they wept till their tears and my tears became indistinguishable. At times they said: "well, right now fairly sturdy." They cried with others, and hugged everyone who loves them so. They broke down in tears when they wanted to, and let themselves feel the love and strength of all those who stood with them brokenhearted.
There are no maps for this kind of a devastation. No do-it-yourself guidelines. All we know is that our lives will never be the same from this point on.
We love words, and the quest for ultimate meaning. And yet I love—not loved, but still love—this child too much to offer any platitudes about God's ultimate plan and unseen wisdom. This family is so beautiful that I will not insult them or their pain by stringing together words in an attempt to soothe their aching. Maybe even faith can not explain that. But it can help us stand together in these most devastating times as we have stood together in the best of times and share in our grief, fall apart together, and with God's grace, get up tomorrow, and do the same thing tomorrow.
Maybe that is part of what faith gives us, not the why, but the strength to stand, fall apart, and persevere brokenhearted.
If you want to have a glimpse of this angelic child, and say a prayer for her and her family, have a look at her obituary.
For this blessed child, who used to call me Uncle Omid, I simply end with Martin paraphrasing Shakespeare:
Good night, sweet princess.
Good night, you who symbolize a new day.
And may the flight of angels take thee to thy eternal rest.
God bless you.
Good night, sweet Shaira.
Hope to see you again, insha'allah, risen and luminous.
Leave a Reply
You must be logged in to post a comment.