Sun 25 Dec 2011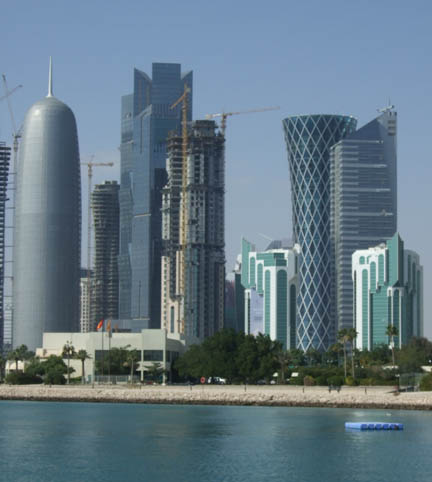 Skyscrapers dominate the modern skyline of Doha
In 1988-1989 I received a Fulbright Islamic Civilization Research Grant to carry out research on the Arab almanac tradition. Most of this time I was sponsored in Doha, Qatar by the Gulf States Folklore Center. Tempus fugit, to be sure. The folklore center no longer exists and Doha is quite a different city these days. A week ago I arrived in Doha to give two lectures at Qatar University, one on the sailing seasons around the Gulf and one on traditional agriculture in Yemen. In the two decades plus since I last visited Doha it is obvious that the city has changed dramatically. I do not remember any skyscrapers on my first visit. Doha was a sleepy little haven with the grand Doha Sheraton the eye candy. And quite an eyeful it was and remains.
I arrived at an auspicious moment, the evening of Qatar's National Day. The entire day was devoted to celebration. Thus the trip that would normally take less than 20 minutes to go from the airport to the Sheraton was accomplished in six hours. The roads were blocked with SUVs and Mercedes colorfully marked and many with young boys on top waving the Qatari flag and sporting scarves with the image of the emir and his heir apparent. I missed the fireworks, but the enthusiasm of the throng made the long journey well worth it.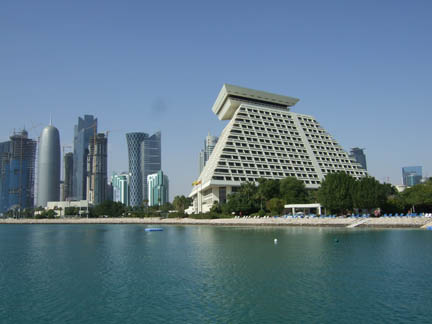 The majestic Doha Sheraton Hotel
The Doha Sheraton is a grand old place. Having been erected in 1982, such a luxury hotel is an architectural shayba. But it still inspires, with a pyramid exterior and inside right out of an arabesque garden from the 1001 Nights. Back then it stood alone, a harbinger of change; today it is almost dwarfed by a series of skyscrapers jutting out of the ground in various original shapes. Here is an architect's paradise with almost every building sporting a unique design.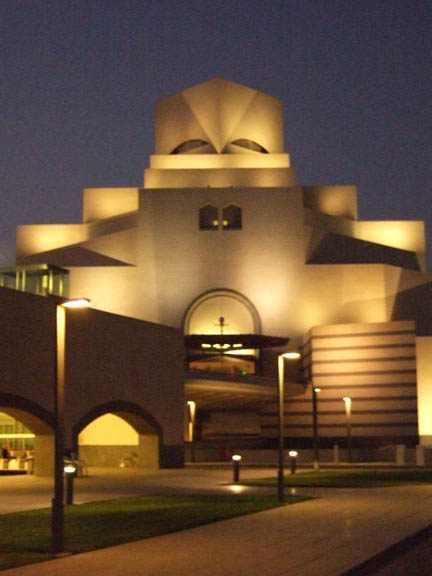 The Museum of Islamic Art at night
My last day I visited the Museum of Islamic Art, which houses a magnificent spread of Quranic manuscript pages, pottery, metalwork and jewelry from all over the region, especially from Iran. Their website has a number of impressive e-cards available. The main Qatar Museum is being renovated, but the Arab Museum of Modern Art has opened and one on Orientalism is in the works. Qatar's wealth is making Doha a museum Mecca, one that is sure to draw a large number of tourists in the years to come.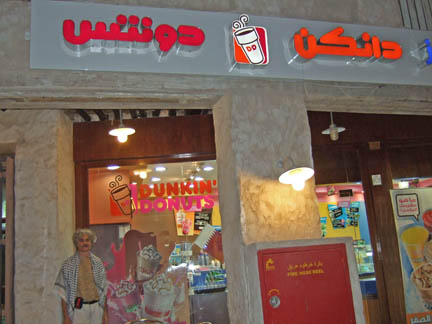 Dunkin' Donuts invades Suq Waqif
When I first visited the Doha suq, it was hardly worthy of the title; to put it mildly, it was quite miskin. But now it has been recreated as a tourist attraction (with paid parking) and live music. It has many of the old kinds of shops, from textiles to spices, but then there are the foreign intrusions, such as a Dunkin' Donuts located near the parking lot. Just what Doha needs: stale globalized donuts.
Flying to and from New York was on Qatar Airways, which has the most outstanding business class I have ever experienced. It is hard to imagine a better first class experience. Next time you are traveling to the Gulf, consider a stop in Doha. Midst the turmoil embroiling the region, Qatar remains a stable oasis of growth. Such a tiny nation, but one that is really making a mark culturally and politically in the region.
Leave a Reply
You must be logged in to post a comment.