Fri 6 Jan 2006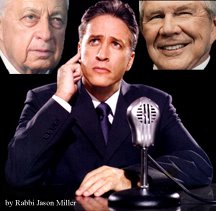 The White House has just announced that Pat Robertson's 700 Clubbing of ailing Israeli Prime Minister Ariel Sharon yesterday is "wholly inappropriate and offensive." According to an article by Daniela Deane, posted at 2:54 pm on the Washington Post website, "White House press spokesman Trent Duffy made the comment to reporters traveling on Air Force One with President Bush this morning. He added that Robertson's comments 'don't have a place in this or any other debate.'" The White House, even with an evangelical sitting in the oval office, is not willing to whitewash the latest off-the-cuff remarks of Mr. CBN.
Robertsons's media empire wasted no time in trying to reverse the spin. The following was posted as the news spread out across media outlets:
"Robertson Spokesperson Addresses Comments Made by Pat Robertson Regarding Ariel Sharon"

"CBN.com – VIRGINIA BEACH, VA., January 5, 2006—Pat Robertson expresses his deep sadness over Ariel Sharon's life threatening stroke and concern for Israel's future security.

On The 700 Club broadcast this morning Robertson said he has met with Sharon at significant times and considers him a friend. Robertson, an ordained minister and bible teacher, has been a life long supporter of Israel and has continually expressed grave concern over dividing the land of Israel. Robertson pointed to the book of Joel in the Old Testament to show a biblical perspective of God's view of Israel and efforts made from people who try to divide God's land:

"In the book of Joel, the prophet Joel makes it very clear that God has 'enmity against those who divide My land.' God considers this land to be His. When you read the Bible, He said this is my land. For any Prime Minister of Israel who decides he will carve it up and give it away, God said, "No, this is Mine."
According to his spokesperson, Angell Watts, Robertson is simply reminding his viewers what the Bible has to say about efforts made to divide the land of Israel."
If this is Sharon's friend, what must his enemies be thinking. Blinded by his own self-righteousness, Robertson shifts the blame to Almighty God via an Old Testament prophet named Joel. But Robertson, as is his penchant, misquotes the prophet. After promising future deliverance for Israel, Joel (3:1-2) lays out his apocalyptic vision:
"For, behold, in those days, and in that time, when I shall bring again the captivity of Judah and Jerusalem, I will also gather all nations, and will bring them down into the Valley of Jehoshaphat, and will plead with them there for my people and my heritage, Israel, whom they have scattered among the nations, and parted my land. And they have cast lots for my people, and have given a boy for an harlot, and sold a girl for wine, that they might drink."
I am not given to taking such scenarios literally, but for the sake of consistency Joel is talking about Zion's foreign enemies, not elected Israeli leaders. Sharon may have irritated rightwing settlers with his recent policy on settlements, but I don't think he has established any houses of ill repute or encouraged young Israelis to ply women with drink so they can defile, as the KJV often puts it, them. If anyone should tremble at these verses, it should be Mahmoud Abbas and the allegedly debauched retinue of his Fatah party.
Daniel Martin Varisco
Leave a Reply
You must be logged in to post a comment.