Tue 9 Nov 2010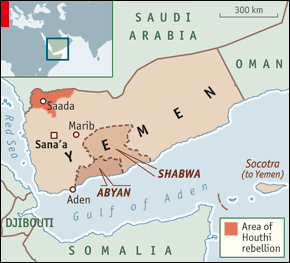 Yemen is not a terrorist factory
By Daniel Martin Varisco, Special to CNN, November 8, 2010
Editor's note: Daniel Martin Varisco is a professor of anthropology at Hofstra University and has visited Yemen over a dozen times for development consulting and research since 1978. He moderates Tabsir, an academic blog on Islam and the Middle East.
(CNN) — Domino theorists love the Middle East. Because of this, a number of media pundits have recently added the little-known country of Yemen as a front in the unsettled aftermath of George W. Bush's War on Terror.
First came the overthrow of the Taliban in Afghanistan, then a protracted war there and in Iraq. Iran is still in the hawkish gun-sights of conservative pundits, but the focus has now shifted to Yemen, a country most Americans could not find on a map. Is Yemen really the terrorist haven we should fear the most?
For the rest of my post on the CNN blog, click here.
Leave a Reply
You must be logged in to post a comment.