Sun 6 Jun 2010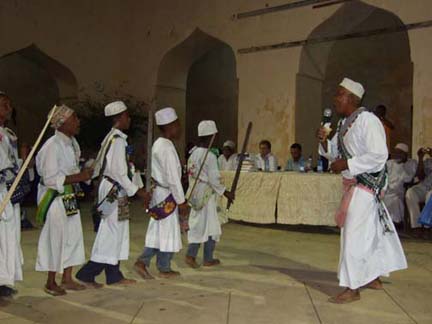 Chamba dance in Lamu Fort
I am sitting in the lobby of Lamu House on the delightful Swahili island of Lamu, my last day after a seminar sponsored here by the Rift Valley Institute on the Horn of Africa. On Wednesday night I attended a reception given by the Lamu museum and other respected officials and members of Lamu town. The highlight of the evening was a performance in "The Fort" of the Chamba wedding dance, a slow-moving line dance with swords and sticks held steadily. On Saturday I went on a dhow trip with Captain Abu (anyone going to Lamu should ask for Abu; he is superb and knows the area well, and the Rasta man Hasan is a fantastic cook) and met Muhammad Famou Othman, head of the dance troop, who took us on a tour of his village.
On Monday I delivered a talk to the Lamu community in The Fort. The talk was in English and I will post it here anon. But I also gave a brief introduction in Arabic, which was well appreciated. I would very much like to learn Swahili now and inshallah return to Lamu to do research on those here who have Yemeni ancestors.
My last day, chilling in a rather warm climate but with a strong breeze.
Leave a Reply
You must be logged in to post a comment.