Tue 27 Apr 2010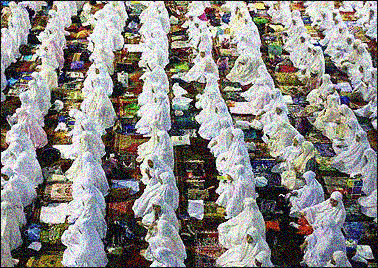 Female Islamic Leadership Research Network
WHO SHOULD JOIN
Academics interested in any aspect of female religious authority or leadership in Islamic communities worldwide – historical or contemporary – should join this network. The goal of the list is to enable academics spread across a wide variety of disciplines to pass along relevant information and resources, and to discuss topics of interest.
WHY THIS NETWORK
This research network is an outgrowth of a conference held in October 2009 at St Antony's College, University of Oxford on contemporary female Islamic authority, Women, Leadership and Mosques: Changes in Contemporary Islamic Authority. The conference focused on the growing number of women active teaching, preaching, interpreting scriptures, or leading prayer in mosques or madrasas around the world.
The large response to the call for papers for this conference made it clear that academic interest in this topic is high and increasing, and also that academics working on this topic are divided by an unusually large number of disciplinary boundaries. A virtual network with a mailing list is an ideal way to connect scholars interested in this topic.
The network is open to scholars studying any aspects of female religious leadership in Islam, and therefore includes topics outside the conference's purview, for instance, the reinterpretation of Islamic scriptures by women who are primarily active outside of mosques and madrasas.
THE NETWORK
Network members study Islamic communities around the world and are active in a wide variety of disciplines, including Islamic Studies, Women's Studies, Development Studies, Anthropology, Sociology, Political Science, History and Area Studies. They are based at universities around the world, including in the United Kingdom, United States, Europe, the Middle East, North Africa and Asia.
The virtual backbone of the research network is a mailing list, sponsored by JISC, and a 'Mailing List' group on Academia.edu.
TO JOIN US
To join the JISC list, either
1. send an email to listserve@JISCMail.ac.uk with only the following text in the body of the email: "subscribe ISLAM-FEMALE-LEADERSHIP FIRSTNAME LASTNAME" (where FIRSTNAME and LASTNAME are your first and last names, respectively),
or,
2. go to the list page, www.jiscmail.ac.uk/ISLAM-FEMALE-LEADERSHIP, choose 'Join or Leave ISLAM-FEMALE-LEADERSHIP' and enter your details.
To join us on Academia.edu, do the following:
1. sign up (or sign into) Academia.edu
2. go to our list page, and click on "I am a member,"
or (if this does not work),
3. go to the general list page, search for "Islam", find "Female Islamic Leadership," and click on the brown "I am a member of Female Islamic Leadership" button.
Leave a Reply
You must be logged in to post a comment.