Fri 16 Apr 2010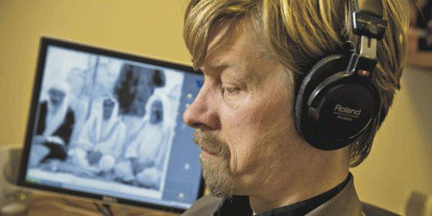 The Colloquium for Unpopular Culture and NYU's Program for Asian/ Pacific/ American Studies present a new series: AUSCULTATIONS: sound, noise, (nervous heart)beats
FLAGG MILLER (University of California at Davis)
ON MILITANCY AND THE ART OF THE EGG: THEOLOGICAL LESSONS FROM THE OSAMA BIN LADEN AUDIOCASSETTE COLLECTION
Cosponsored by NYU's Hagop Kevorkian Center for Near Eastern Studies
When: Monday 19 April 2010, 12:30pm
Where: Room 471, 20 Cooper Square (East 5th and Bowery)
Free and open to the public
The alleged fantasies of Islamic militants provide Western audiences with an ample repertoire not only for stereotyping Muslims but also for severing acts of terror from realms of human experience. With the aim of bringing Muslim militants' narratives of violence back to the complexities of situated cultural interaction, Flagg Miller will investigate the ways in which militancy is conceptualized through audiocassette-mediated sound production. In the winter of 2002, over 1500 audiocassettes from Osama Bin Laden's former compound in Qandahar, Afghanistan were acquired by Cable News Networks. Miller will focus on one cassette entitled "With the mujahidin" (ma` al-mujahidin) that features participants cooking breakfast in a makeshift Afghan Arab kitchen.
Flagg Miller is an Associate Professor of Religious Studies at the University of California at Davis. He is the author of The Moral Resonance of Arab Media: Audiocassette Poetry and Culture in Yemen (2007), and wrote the preface to Poems from Guantánamo: The Detainees Speak (University of Iowa Press, 2007), a collection of translated poems written by detainees at Guantánamo Bay. For an article on Dr. Miller's work in The Chronicle, click here.
Leave a Reply
You must be logged in to post a comment.