Tue 9 Mar 2010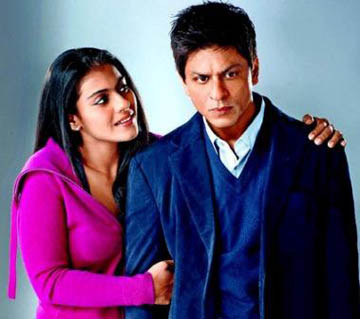 Kajol Devgan and Shah Rukh Khan
On Sunday I finally saw the new Bollywood film with Shah Rukh Khan, "My Name is Khan." It is well worth seeing, although the minimalist dancing and singing in the film make it more Hollywood (not Fred Astaire's) than Bollywood. Add to this the fact that many parts of the film were made in San Francisco and California and the Bollywood connection is even more estranged. The plot of the film has gaping holes, but it is not meant as a documentary. I walked away feeling good about two aspects of the film. First, it is a stirring educational lesson in Asperger's Syndrome. One of Bollywood's most glamorous male stars provides a moving performance of this disability, disabling those critics who dismiss the victims of the syndrome as dumb or retarded (neither of which they are).
Second, given all the Islamophobic films out there, where jihad is the only plot associated with Islam, it is refreshing to see the tables turned. While most Americans did not use 9/11 as an excuse to go out and beat up Muslims (or Sikhs or anyone who was not "white" enough), a number of prejudicial people did. The hate was real and most Muslims have felt it, even if only the cold stare. Finally here is a fantasy that goes the other way, while making Muslims heroes and lovers of peace.
For anyone who thinks the depiction of Muslim-bashing is overdone, consider the reception the film star, Mr. Khan, received on arriving at Newark Airport in 2009 to promote the film. I quote from the rather long Wikipedia account of the film:
Khan has stated that due to his last name and religion, he (like Rizwan Khan) is frequently subject to excess security checks at airports. On 14 August 2009, Khan arrived in the United States in order to both promote My Name Is Khan and to participate in various South Asian-related events around the country (including Indian Independence Day). Upon arriving at Newark Airport in New Jersey, he was pulled aside by Immigration officers after his name popped up on their computers,[64] questioned for over an hour (Khan claims it was at least two hours) about the nature of his visit, and was later released. According to the Times Online, "In Delhi, Timothy J. Roemer, the American Ambassador to India, said that the embassy was trying to 'ascertain the facts of the case.' He added: 'Shah Rukh Khan, the actor and global icon, is a welcome guest in the United States.'"

Khan said he was told that it was because "they said my name was common to some name that popped up on the computer." The officials asked if he could provide names of people to vouch for him. Khan noted that he "had all the documents; they were asking me where I was going to be staying. I gave the name of FOX people with whom I had finalised a deal a few days ago as contacts." However because they wanted to check his luggage which the airline had lost, Khan said that he "was taken to a room where many people were awaiting a secondary check on visa, most were Asians. In fact many officers were reluctantly vouching for me, some people were asking for autographs and a Pakistani fan even said he knew who I was. But the officers said it was procedure and kept taking numbers from me."

While he was not allowed to use his own phone, Khan was permitted one phone call.[65] He was thus released after officials from the Indian Consulate intervened. Civil Aviation Minister Praful Patel stated that the event will be further explored with U.S. officials. According to the BBC, "Elmer Camacho, a spokesman for the US Bureau of Customs and Border Protection, said the questioning was part of the agency's routine process to screen foreign travellers."When later asked during an interview whether he was angry, Khan responded that,

"I did feel bad for a lot of people in that room, I know because I had an escort and someone would recognise me, I will get out. Others may face more trouble […] I have extra security because of my name. I can handle this but when you have someone as respectable as an ex-president getting frisked, I am nobody" (in reference to the frisking of President A. P. J. Abdul Kalam earlier in the summer).

Khan also stated that, "I think it is a procedure that needs to be followed. But it is an unfortunate procedure." When asked if he would demand an apology, Khan replied that he would not.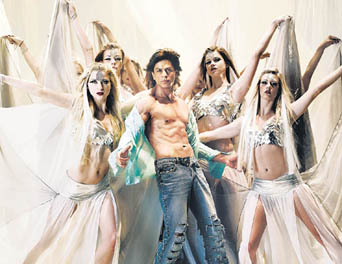 Shah Rukh Khan as sex symbol
Hello, this is one of India's top stars. Look at the scene above; is this your typical terrorist suspect? Would Tom Hanks get hauled out of the line in Delhi? The irony is that having a last name of "Khan" does indeed make one a target of suspicion. One serious objection I have is the depiction of the Black residents of the Georgia town. The little boy is so Sambo-ish that it smarts. The whole rustic scene, including the church on a hill, seems to come off the stage of The Wizard of Oz or The Hobbit. Stereotype the ones guilty of stereotyping all you want, but why the belittling portrayal of African-Americans? Even for Bollywood, there could have been more attention to reality. Yes, there are poor Blacks in the South, but they don't all look like Aunt Jemina and a dwarf Little Richard. And is there not a better Obama look-alike than the one found for the film? Well, at least it wasn't Michael Steele.
But hey, it is worth watching as both entertainment and a corrective to the hate-mongering against Muslims. Hooray for Khan. Hooray for "My Name is Khan," even if it is not likely to make much of a name for itself at Cannes.
Daniel Martin Varisco
For a related post, click here.
Leave a Reply
You must be logged in to post a comment.