Thu 18 Feb 2010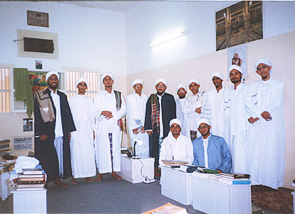 Students at Dar al-Mustafa in Tarim, Hadramawt
The image of the Islamic madrasa is severely tainted in the West. One of the oldest educational institutions in the world, and a pedagogical system that had influence on the evolution of colleges in medieval Europe, is generally portrayed in the media as a reactionary base for hateful anti-Western propaganda. Now that Yemen has surfaced as yet another "terrorist haven," the idea of Islamic education in Yemen is likewise viewed negatively. One of the most important historical centers of Islamic education in Yemen remains Tarim in the Hadramawt valley. Yes, indeed the very Hadramawt from which the ancestors of Osama Bin Laden migrated. But Tarim has an international focus that many people are not aware of. For centuries Hadramis, including Sufi missionaries, have established strong ties with the people of India and Indonesia. The largess of Hadramis abroad has led to substantial support for schools back in Tarim. These are not backward enclaves with firebrands but devout Sufi masters who have long preached tolerance and the quest for spiritual truth. There is a video report posted on Al-Jazeera by Hashem Ahelbarra on "Students in Yemen fight Stereotypes" that is worth watching. For more information on Dar al-Mustafa, which is featured in the video, click here.
One Response to "Madrasa in Sufi Hands"
Yakoub Islam Says:
February 20th, 2010 at 5:48 am

See also: Muhammad Qasim Zaman, 'The Ulama in Contemporary Islam: Custodians of Change' (Princeton University Press, 2007)
Leave a Reply
You must be logged in to post a comment.