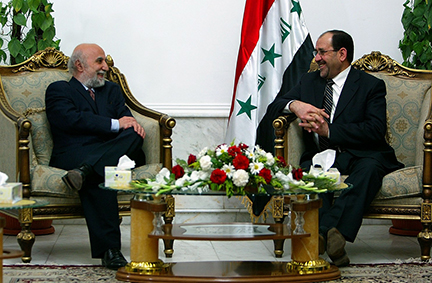 Fouad Ajami, left, met in 2007 with Iraqi Prime Minister Nouri al-Maliki in Baghdad's Green Zone. (Wathiq Khuzaie/AP)


By As'ad AbuKhalil – Alakhbar English, June 23, 2014
The news of Ajami's death triggered a competition among American journalists: they all wanted to express how much they loved him and admired him. They all spoke about his "grace" and one Zionist publication called him the "genuine Arab hero." The New York Times and Wall Street Journal were quick to publish glowing obituaries.
Fouad Ajami is not the only Arab Zionist (and I am using the word Zionist here as a description and not as an insult, which it is for all of us anti-Zionists who measure the ideology by its devastating impact on the lives of Palestinians and Arabs and by its blatantly racist discourse) but he may have been the first Arab Zionist to advocate publicly for his Zionism. Ajami's career is a political career and not an academic one.
Academic careers in the top US universities are specifically and rigidly structured and designed: those who are not graduates of the "elite US universities" don't even get short-listed for jobs. Yet, Fouad Ajami went to school at Eastern Oregon College and received his PhD at the University of Washington, Seattle. It is certain that he is the only graduate of the University of Washington, Seattle who got an offer from Harvard University (he turned it down). When Martin Peretz and other Zionists at Harvard were lobbying for the university to hire Ajami, he demurred. He set his own conditions: that he did not want to teach undergraduates. They explained to him that all faculty at Harvard teach undergraduates. (more…)