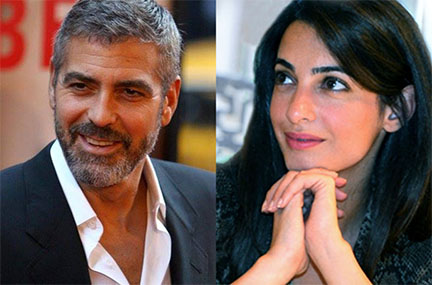 What is the religion of George Clooney's fiancé, Ms. Amal Alamduddin? Druze? Muslim?
by Omid Safi, What Would Muhammad Do, April 29, 2014
The news that George Clooney, the perpetual bachelor, had gotten engaged to Amal Alamuddin, a stunning Arab beauty, who (ahem, ahem) is also a badass brainy Oxford-educated international human rights lawyer—pardon us, barrister—has now officially gone viral. Here and here and here.
On social media, many professional women, in their 30s and 40s, have expressed joy that Clooney was wedding a brainy (Ok, and stunning) professional woman.
Many human rights activists see this as an opportunity to bring attention to catastrophes like Syria.
Many Arabs are naturally seeing this as a confirmation of the attractiveness of Arabs. [Just check out the outburst of pride on FB!] (more…)