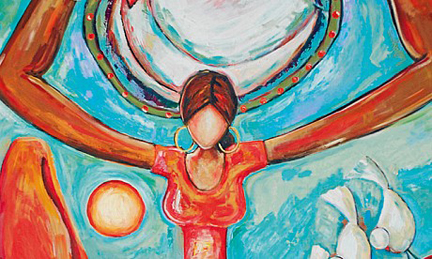 Artwork by Lebanese artist Fady Habib
By George N. El-Hage. Ph.D.
[Originally written in Arabic and Translated by Allen Lederman and George Nicolas El-Hage. For part 1, click here.]
1 – Glory be to Lebanon and the strength and dignity of man in her, now and forever.
2 – Oh my Lebanese friend, if only you could witness the politicians, and by God they are many. Those who deprived politics of its national obligations, you will see them as they are, without their chameleon skins, parrot tongues, and raven cloaks. If only you saw them in the mirror of truth and patriotism, you would curse them and refuse their sedition.
3 – Because Lebanon embodies love, and love embodies God, Lebanon endures. Fear not, oh Lebanese.
4 – No. The sound of the cannons and the explosions of the bombs and bullets no longer frighten our women. For the Woman who reared history's greatest heroes is able to beget heroism any time.
5 – Those who died in the cause of Lebanon know they live in our hearts and that to die for Lebanon, is to live.
6 – Never have invaders and oppressors been more powerful than a people fighting for its survival. Thus we know we will triumph and endure.
7 – Those who sold their homeland and bartered their cause do not even deserve the curse of history, for he who has neither country nor cause, is non-existent.
8 – Those whom Lebanon harbored and fed, and carried their cause to the world, chased her people out, starved and killed them. We will continue to love them, for what good is it to love only those who love you. (more…)