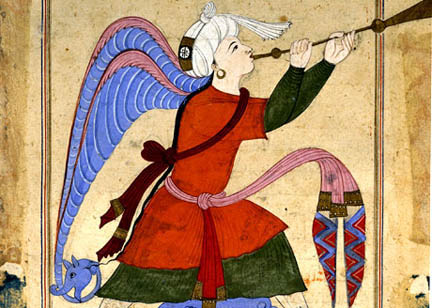 The angel Israfil from the Aja'ib al-Makhluqat of al-Qazwini, Mamluk, period. Illustration in the British Museum
[The following is part six of a series on a lecture presented in the Hofstra Great Books Series on December 5, 1993. For part five, click here.].
Concluding Remarks
The most important part of any lecture, assuming one is not completely turned off in the first minute or two, is supposed to come after the words "in conclusion." In conclusion. This means there must be a need to conclude something. Regarding the Quran as a great book, there is little need to conclude anything. The mere fact that this talk was scheduled and that you came shows that a sacred scripture commanding the attention of so many people on earth warrants consideration. Regarding how Muslims view the greatness of their Great Book, there is too much to conclude, too great a gap in experience, too challenging a call for empathy. Rather than try to tell you what the Quran is in a nutshell, I would simply ask that sometime soon you try reading it or at least a selection of excerpts. A good place to start is the superb translation of select texts by Michael Sells' Approaching the Quran.
However, having raised the issue of The Satanic Verses in a lecture on the Quran, a final comment does need to be made. If I were to simply tell you that most Muslims approach their sacred book quite differently, as I see it, than others approach their scriptures, you would probably say "alright, so things are different, so they have a right and we have a right, so what?" Even if the statement of faith outlined in the fatiha or the line of reasoning articulated by a brilliant scholar like Ibn al-'Arabi is instructive, you would probably still walk away tonight basically unchallenged and unchanged. (more…)