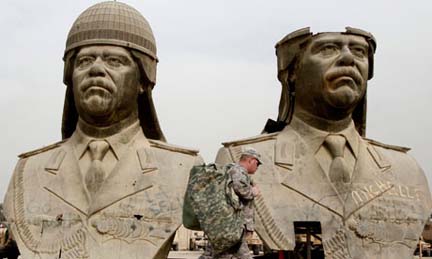 The Iraq war is finally over. And it marks a complete neocon defeat
by Jonathan Steele The Guardian, October 23, 2011
The Iraq war is over. Buried by the news from Libya, Barack Obama announced late on Friday that all US troops will leave Iraq by 31 December.
The president put a brave face on it, claiming he was fulfilling an election promise to end the war, though he had actually been supporting the Pentagon's effort to make a deal with Iraq's prime minister Nouri al-Maliki to keep US bases and several thousand troops there indefinitely.
The talks broke down because Moqtada al-Sadr's members of parliament and other Iraqi nationalists insisted that US troops be subject to Iraqi law. In every country where they are based the US insists on legal immunity and refuses to let troops be tried by foreigners. In Iraq the issue is especially sensitive after numerous US murders of civilians and the Abu Ghraib scandal in which Iraqi prisoners were sexually humiliated. In almost every case where US courts tried US troops, soldiers were acquitted or received relatively brief prison sentences.
The final troop withdrawal marks a complete defeat for Bush's Iraq project. The neocons' grand plan to use the 2003 invasion to turn the country into a secure pro-western democracy and a garrison for US bases that could put pressure on Syria and Iran lies in tatters.
Their hopes of making Iraq a democratic model for the Middle East have been tipped on their head. (more…)