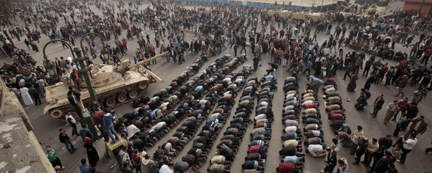 We've Waited For This Revolution For Years. Other Despots Should Quail
By Mona Eltahawy, The Observer, January 29, 2011,
My birth at the end of July 1967 makes me a child of the naksa, or setback, as the Arab defeat during the June 1967 war with Israel is euphemistically known in Arabic. My parents' generation grew up high on the Arab nationalism that Egyptian president Gamal Abdel Nasser brandished in the 1950s. But we "Children of the Naksa", hemmed in by humiliation, have spent so much of our lives uncomfortably stepping into pride's large, empty shoes.
But here now finally are our children – Generation Facebook – kicking aside the burden of history, determined to show us just how easy it is to tell the dictator it's time to go.
To understand the importance of what's going in Egypt, take the barricades of 1968 (for a good youthful zing), throw them into a mixer with 1989 and blend to produce the potent brew that the popular uprising in Egypt is preparing to offer the entire region. It's the most exciting time of my life. (more…)