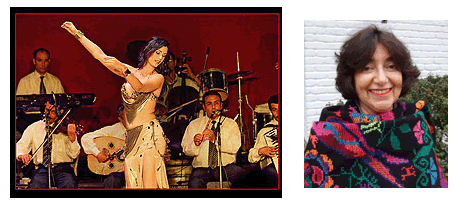 Leila, left; Dr. Najwa Adra, right
Dance Workshop & Discussion: Leila of Cairo and Anthropologist Najwa Adra
Wednesday, September 1, 2010 6:00 pm at Alwan for the Arts
Workshop: 6:00-8:30 pm
Discussion: 8:30-10:00 pm
This evening of dance and discussion provides an opportunity much needed in the bellydance scene: to both embody the feeling of Egyptian raqs sharqi through movement and music, and also to speak to the controversial issues surrounding the dance through dialogue with experts. Alwan welcomes acclaimed dancer Leila of Cairo, and esteemed scholar Najwa Adra, to kick off its 2010-2011 season of culturally contextualized, quality dance and performance.
Dance Workshop with Leila of Cairo
Understanding Classical Egyptian Music for Dance
6:00-8:30 pm
The historic songs of Oum Kalthoum, Abdel Halim Hafez and Warda can be intimidating for dancers of all levels. Join Leila as she navigates through the musical structure of these complex compositions. Explore Egyptian versus Western interpretation of these songs, and utilize Egyptian technique to express the music and ultimately, yourself, within the dance.
Take advantage this rare opportunity to learn with Cairo-based, American-born Leila, who has won over Egyptian audiences with her dance, film and stage appearances.
Discussion with Najwa Adra PhD and Leila
Raqs, What's the Point? Diverging Bellydance Traditions in Egypt and the U.S.
8:30-10:00 pm
This discussion focuses on differences of perception, meaning, context and technique of the dance known simply as raqs or raqs sharqi in the Arab world, and as bellydance in the US. Leila draws upon her experiences as a US-born dancer who has an exceptionally successful career as a performing artist in Eygpt, while Najwa highlights related issues from her fieldwork research, writings and lifetime of participating in social dance traditions of the Arab world. The talk-back will touch upon notions of authenticity, cultural appropriation and orientalization in the dance. Come with questions and comments! (more…)