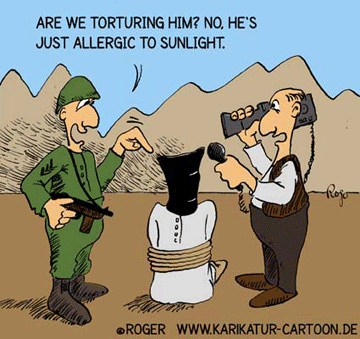 Interrogation Results Prompt Scrutiny Of Methods
by Dina Temple-Raston, NPR, Morning Edition, April 30, 2009
This is a story about two interrogation programs — one run by the U.S. military, the other run by the CIA. The military program was focused on getting important al-Qaida suspects in Iraq to talk. The CIA operation zeroed in on important al-Qaida suspects from around the world. Both programs had similar goals, but they operated under very difficult rules.
Earlier this month, former CIA Director Michael Hayden was on Fox News defending the CIA's enhanced interrogation program.
"The use of these techniques against these terrorists made us safer," he said emphatically. "It really did work." As Hayden and others see it, the U.S. had to use tough techniques — some called it torture — to battle al-Qaida.
Matthew Alexander is an advocate of a different kind of interrogation — one that builds rapport, like the kind of technique you see on television cop shows. Alexander was a military interrogator in Iraq and doesn't see the need for rough questioning. (more…)