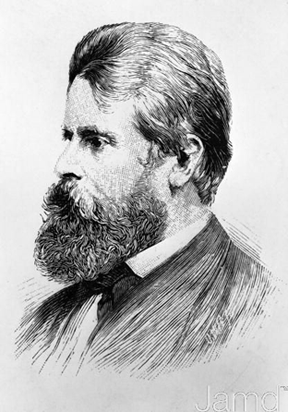 English poet and traveller Wilfrid Scawen Blunt (1840 – 1922), circa 1880.
Webshaykh's Note: Given the ongoing crises in the Middle East, it is useful to return to earlier commentaries. In the excerpt below the voice of Wilfrid Scawen Blunt echoes with resonance for events currently in the news about Gaza, Iraq and Afghanistan. Let us all hope that the new year brings tolerance and peaceful intentions for us all.
Wealthy and well connected Wilfrid retired from the foreign service in 1869 and soon the traveling Blunts went east. As Wilfrid noted about his first visit to Egypt in 1879, he was still "a believer in the common English creed that England had a providential mission in the East." After learning about Bedouin customs firsthand in Syria Lady Anne spoke for both travelers about their interest in no longer looking at the people "with the half contemptuous ignorance" of Europeans. Not only were the Blunts aware and appalled at Eurocentric attitudes, but Wilfrid wrote of Islam as a "true religion," which certainly had far more to offer African converts than Christianity. In 1881 Blunt bought an estate in Cairo, where he became a neighbor and friend of the Islamic reformer Muhammad 'Abduh. On a visit to England Blunt arranged a visit between 'Abduh and the reigning social philosopher, Herbert Spencer; the Egyptian reportedly told Spencer that the East was learning the evil rather than the good from the West, but the best of both was the same.
Blunt was perhaps the most famous aristo-critic of British imperialism in Egypt. With the impunity his elite upbringing bequeathed at the time he admonished Lord Cromer, whose "wrong-headed administration" only served to Anglicize Egypt. He used his impeccable social connections to lobby British politicians, including Prime Minister Gladstone, whose "Oriental" policies he deplored. Blunt's radical critique of the colonial transgressions committed by the burdensome white race is second to none, including Fanon and Césaire. Consider his prescient diary note at the close of the nineteenth century:
The old century is very nearly out, and leaves the world in a pretty pass, and the British Empire is playing the devil in it as never an empire before on so large a scale. (more…)