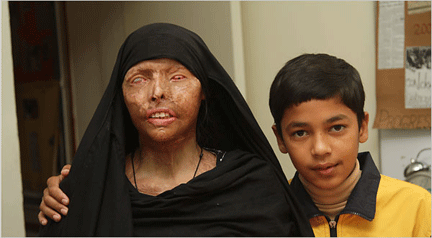 Acid attacks and wife burnings are common in parts of Asia because the victims are the most voiceless in these societies. Naeema Azar, above, was attacked by her husband after they divorced. Her 12-year-old son, Ahmed Shah, looks after her.
Terrorism That's Personal
By NICHOLAS D. KRISTOF, The New York Times, November 30, 2008
ISLAMABAD, Pakistan
Terrorism in this part of the world usually means bombs exploding or hotels burning, as the latest horrific scenes from Mumbai attest. Yet alongside the brutal public terrorism that fills the television screens, there is an equally cruel form of terrorism that gets almost no attention and thrives as a result: flinging acid on a woman's face to leave her hideously deformed.
Here in Pakistan, I've been investigating such acid attacks, which are commonly used to terrorize and subjugate women and girls in a swath of Asia from Afghanistan through Cambodia (men are almost never attacked with acid). Because women usually don't matter in this part of the world, their attackers are rarely prosecuted and acid sales are usually not controlled. It's a kind of terrorism that becomes accepted as part of the background noise in the region. (more…)