Sun 18 Oct 2009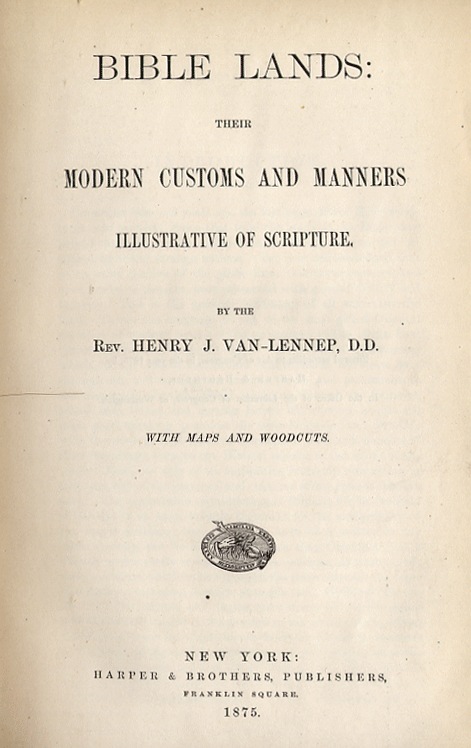 The nineteenth century Rev. Henry J. Van-Lennep provided one of the most exhaustive (832 pages) compilations of contemporary customs of "Holy Land" peoples said to be "illustrative of scripture." In a sense the popularity of the "Bible customs" genre, which included many of the travel accounts of ministers, missionaries and lay Christians, served as an antidote to the Higher and Lower Criticism of the Bible. To the extent the Bible was treated as a literary text, the divine luster wore thin for conservative Christians. By the mid-nineteenth century archaeological discoveries in the Holy Land seemed to vindicate aspects of recorded biblical history. Van-Lennep, however, was less concerned about the spoils beneath the soil than the customs of contemporary Arabs and other indigenous people in what he thought of as Bible lands.
As a text, Van-Lennep's Bible Lands rests on first-person experience as a missionary in the Ottoman world and on information from earlier travel accounts. The author was born in Smyrna in 1815 and came to the United States in 1830, graduating from Andover Theological Seminary in 1837. He began his missionary work in 1838, bringing his young wife Mary, also a seminary graduate, to Constantinople in 1843; she died of dysentery within a year and he married twice again. He traveled extensively throughout the Holy Land, including Egypt, and was said to preach in five different Arabic dialects. In addition to his missionary work, Van-Lennep was an excellent artist. Although he lost his sight in 1869, he was still able to publish the results of his travels, first in 1870, and then in his Bible Lands (1975), passing away in 1889. Rereading this informative text is still worthwhile, not for its original intent, but as a window on life in Palestine and the Ottoman Empire a century and a half ago. A pdf version of his book is available for download by clicking here.
To be continued…
Leave a Reply
You must be logged in to post a comment.