Fri 31 Jul 2009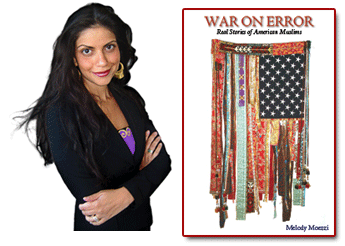 Book about Islam required reading for UD freshmen
By Dave Larsen, Dayton Daily News, July 26, 2009
More than 1,700 incoming University of Dayton students are required to read "War on Error: Real Stories of American Muslims" before they arrive on campus Aug. 22 for first-year orientation.
The book, an award-winning collection of essays about young American Muslims, was written by Melody Moezzi, a 1997 graduate of Centerville High School and an American Muslim of Iranian descent.
UD is a Marianist Catholic university.
Moezzi's book will serve as the basis for a series of student dialogues on the issue of diversity and differences, said Kathleen Webb, UD dean of libraries.
"I hope that they'll be able to see a human side of Islam and not a politicized version of it, which obviously we all get too much of," Moezzi said from her home in Atlanta.
"War on Error" was one of 48 books nominated for the first-year read in a UD campus poll. It was selected in part because of Moezzi's Dayton roots and its timely subject matter. "We kept coming back to the issue of which one of these books is really going to engage our new students in a way that would allow them to begin a conversation about differences that we all bring to the table in our work environments or our living environments or our classroom environments," Webb said.
This is the sixth year for UD's First-Year Read program. More than 100 colleges and universities have similar programs, according to the National Resource Center for the First-Year Experience and Students in Transition.

Keep reading: UD students can relate to Islamic faith journey, dean says.
[For more information on Melody Moezzi, click here.]
Leave a Reply
You must be logged in to post a comment.