Mon 30 Mar 2009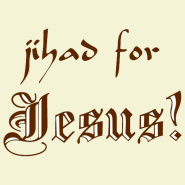 Forget "Jews for Jesus." Bill Maher missed the t-shirt gospel in his Religulous. If the War on Terror is the message; a t-shirt may be the best medium. Just check out the one-size-does-not-fit-all humor at smarttorso.com.
The site even comes with a disclaimer:
This site is not suggesting that the Global War on Terror is a front for spreading western Christianity to Afghanistan, Iraq, and the rest of the middle east.

That sure would be sweet, though.

(Reminder to our heroes overseas: any SmartTorso order shipping to an APO or FPO address will automatically recieve $5 off. Thanks for your service. Just don't wear this shirt in formation, unless you have enormous balls and can get away with it.)
Leave a Reply
You must be logged in to post a comment.