Mon 23 Feb 2009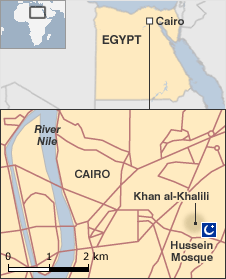 Suspects detained in Cairo blast
BBC News, February 23, 2009
Egyptian police are questioning three suspects over the bombing of a Cairo market that killed one person and injured 20 others, officials say.
They were detained near the market shortly after the blast, police said.
It happened at an open-air hotel cafe packed with tourists in the Khan al-Khalili area – a major attraction and home to a prominent mosque.
French President Nicolas Sarkozy has expressed "deep sorrow" at the death of a French teenager in the blast.
Police said they thought the device had been thrown from a balcony. It is not yet known who was responsible.
There have been conflicting reports the bomb, which is believed to have been home-made, may have been left under a bench.
'So powerful'
"Three people there were arrested on the site as suspects after the attack," AFP quoted a police official as saying on Monday. "Others are being questioned as witnesses."
" The blast was so powerful that the earth shook underneath us "
Witness
Those injured in the blast included more than a dozen French nationals, four Germans and three Egyptians, according to police. Six are thought to be in a serious condition.
The French foreign ministry confirmed the death of one of its citizens, a 17-year-old girl.
"The victim was 17 years old and had travelled with a group of young people from Levallois," foreign ministry spokesman Eric Chevallier was quoted by the AFP news agency as saying. Levallois-Perret is a suburb of Paris.
Many of the injured were among the group of 54 teenagers from Paris, AFP reported.
Mr Sarkozy gave his condolences to the family of the victim, and expressed his "deep sorrow" over the attack.
The early evening explosion happened near the Hussein mosque and a well-known bazaar, in what is a historic area.
This is a very crowded area with tiny streets, which is why even a small blast would appear to have had such a devastating effect, the BBC's Christian Fraser in Cairo says.
It is thought the bomb was thrown from an upper floor of the hotel, our correspondent says.
But news agencies have also quoted a report from the Egyptian state news service Mena, which said the bomb had exploded under a bench.
Montasser el-Zayat, a lawyer who defended Islamic extremists, told Arabic news channel al-Jazeera the attack might be linked to anger over the recent Israeli offensive in Gaza.
"The nature of the explosion looks like an act carried out by young, inexperienced amateurs whose emotions were inflamed by the events of Gaza," Mr el-Zayat was quoted by the Associated Press as saying.
The area was sealed off as bomb disposal experts were sent in to defuse a second device which failed to explode.
'Plenty of enemies'
"The blast was so powerful that the earth shook underneath us," an eyewitness told Egypt's Nile News TV.
EGYPT ATTACKS
# April 2006: Bombs at Dahab, on the Red Sea, kill at least 23
# April 2005 : Bombing at Khan al-Khalili kills three people, including Frenchman and American
# July 2005: At least 88 people die in bomb attacks in Sharm el-Sheikh, on the Red Sea
# March 2005: Hungarian couple stabbed while kissing near Khan al-Khalili
# Oct 2004: Bombs at Red Sea resorts of Taba and Nuweiba kill at least 34 people
# 1997: Gunmen fire on tourists in Cairo and in Luxor, killing 68
"We all lay down on the ground. Blood was streaming from the back of one of the people running away from the blast. I even saw a separated hand and an arm. Just shredded human flesh," the witness said.
No cars are allowed into the area but motorbikes can get around the barriers, our correspondent says.
The Khan al-Khalili area was targeted in 2005, when three people – including an American and a French tourist – were killed in a blast.
Sunday's explosion will be of huge concern to Egypt's security services, our correspondent says.
These are tense times for the Egyptian government, he adds, which has been criticised for its stance over the recent conflict in Gaza and has many enemies.
Leave a Reply
You must be logged in to post a comment.