Mon 23 Oct 2006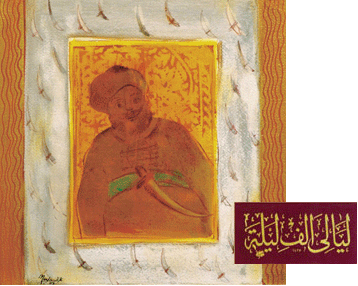 [Illustration by Nazli Madkour for Arabian Nights and Days.]
One of my dear friends in New York City is Sid Shiff, a retired investment banker who runs the Limited Editions Club (LEC). Founded by George Macy in 1929, the LEC has become the finest private press in the US under Sid's guidance. They have published volumes such as Rimbaud's A Season in Hell with illustrations by Robert Mapplethorpe, an edition of Cosi Fan Tutte with illustrations by Balthus, and poems by Octavio Paz illustrated by Robert Motherwell. After the terrorist attacks on 9/11, Sid wanted to do something to promote art from the Muslim world. For me, that was a profound gesture, reacting to hate with compassion, not simply returning the hate.
With a little input from me, Sid decided to do an edition of Naguib Mahfouz's Arabian Nights and Days, with illustrations by Egyptian artist Nazli Madkour, an afterword by Mohamed Salmawy, and calligraphy by American master calligrapher Mohamed Zakariya. Mahfouz, of course, who died earlier this year, had won the Nobel Prize for Literature in 1988 (with Salmawy accepting on his behalf). For years, he was one of the touchstones for Muslims who were asked the question about why there were no great Muslim artists.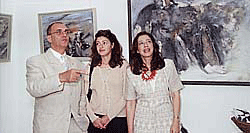 [Nazli Madkour, Egyptian artist (left), daughter Sara and husband Mohamed Salmawy, playwright and editor-in-chief of Al-Ahram Hebdo.]
I thought about that last week, when the Prize for Literature was announced for Turkish Muslim writer Orhan Pamuk, and the Prize for Peace was given to Muhammad Yunus and his Grameen Bank in Bangladesh. That kept an extraordinary run, with 3 of the past 4 peace prizes going to Muslims (Shirin Ebadi in 2003, and Mohammed ElBaradei in 2005).
The prizes, of course are always debated. V.S. Naipaul, for example, has one more Nobel Prize than James Joyce and Salman Rushdie combined, which is, er, curious at best. Pamuk's prize has been debated in Turkey, and some Bangladeshis such as Taj Hashmi at York University are opposed to Yunus. That said, the award for Nobel Prizes to Muslims in recent years has to give the lie with artistic flavor to the "clash of civilizations" thesis. Clearly, Muslims are and have been participants in the creation of the best of our mercifully globalized Western civilization.
[For more information on the special edition of the Mahfouz book, click here.]
Amir Hussein
Leave a Reply
You must be logged in to post a comment.