Thu 26 Oct 2006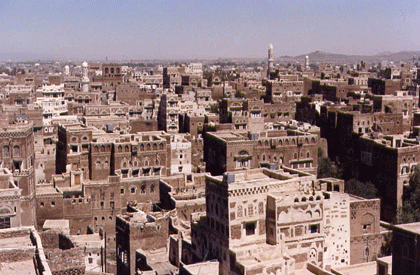 by Tim MacIntosh-Smith
ARAMCO WORLD, January/February, 2006
[Note: The full article is available online at the superb Saudi Aramco World website. This is a brief excerpt, but check out the full article.]
The scent of basil is the first thing I notice when I wake on Fridays, then the hum of voices from below the window.
Down on al-Zumur, one of the busiest market streets in the old city of Sana'a, my neighbor Maryam the qashshamah sits behind a heap of greenery: deep green alfalfa, fodder for animals; gray-green 'ansif (Astragalus abyssinicus) to give a zing to tea or to shafut, sorghum pancakes drenched in herby yogurt; parsley, rocket and fennel; and chives, lettuce and mint. The green is punctuated by giant white radishes, orange-yellow marigolds, and the bruise-purple of that pungent basil. Other colors come and go with the seasons, like those of quinces, figs and—best but briefest of all—the bloomy black of mulberries. All this I must climb over to get to my favorite breakfast place along the road, for Maryam's shop is my doorstep. But the pile of vegetation—usually interspersed with small children—is a pleasing inconvenience. And in any case Maryam always disarms potential objections. "Here," she says, holding out a bunch of basil and marigolds, "have a mushquri."
You will look in vain for that word in the standard Arabic reference books. Its origin goes back further—to Sabaic, one of the ancient South Arabian languages. Shqr (the vowels are anyone's guess) is the cresting on a building, and 2000 years of semantic vagaries have turned it to mean a posy to decorate your turban—a crest for the head. Similarly, qashshamah, Maryam's job title, and that of her male equivalent, the qashsham, as well as miqshamah (plural: maqaashim), the garden where they grow their produce, all have an origin just as old but better preserved: qshmt, the Sabaic word for a vegetable plot.
In this long cultivated and most fertile corner of Arabia, the Qur'anic "Land of the Two Gardens," it is hardly surprising that the roots of words that have to do with growing things go deep. What is remarkable, in the intensely urban setting of Sana'a—a walled metropolis crowded with towers today, and the place where the Sabaeans built the 10-story Palace of Ghumdan some two millennia ago—is that not only the words survive: So, too, do the gardens. My Friday marigolds were picked less than a minute's walk from Maryam's doorstep shop…
[For the rest of the article, click here.]
[Tim Mackintosh-Smith (tim@yemen.net.ye) has made his home in Sana'a for more than 20 years. His most recent book is The Hall of a Thousand Columns: Hindustan to Malabar with Ibn Battutah (John Murray).]
Leave a Reply
You must be logged in to post a comment.