Mon 11 Aug 2008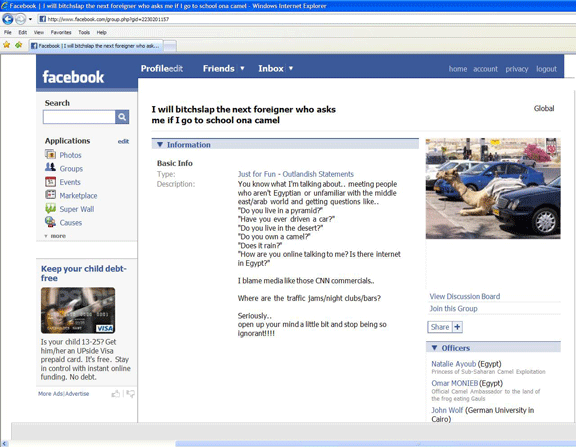 If you are a young, well-educated Egyptian, your future probably lies somewhere else. "I love Egypt, but I can't live here" Hawass told me. He was a computer-science graduate from the American University in Cairo who obtained a job with a German firm and was preparing to relocate to Bonn.
Many young cosmopolitan Egyptians manage the ironies of their relationship with Egypt not through links to the homeland but through social networks with other Egyptian travelers. This has recently been hugely facilitated by e-mail, instant messaging, cell phones, and social networking technologies. An Egyptian friend of my daughters, on a recent trip to visit us in Ohio, introduced me to what is now my favorite such site, the Facebook group "I will bitchslap the next foreigner who asks me if I go to school on a camel."
The group was founded in late 2006 as a site for Egyptians to share stories about the ignorant, rude or just plain stupid misconceptions they encountered in their travels. It quickly evolved beyond this. In the photo section, for example, members began mocking ignorant foreigners by posting photos of camels with captions like "This is what I drive to school" and pyramids captioned "Here's my school."
From sharing and mocking stereotypes, members began countering them. Photos were posted offering images of high-tech buildings, resorts and internet cafes that contradicted the stereotypes of Egypt as a backward realm of sand and stone they encountered from Europeans and Americans. These, in turn, quickly give way to nostalgia photos featuring common sights expatriate Egyptians say they miss about Egypt, and finally to critiques of Egypt from an insider perspective, such as poorly translated signs transposing p and b, or men on bicycles transporting huge weights on their heads. In the latter case, someone inevitably posts the comment "only in Egypt".
This mix of nostalgia, insider critiques and humor aimed at "dumb foreigners" offers a powerful means of managing cosmopolitan identities by indexically linking oneself to a national home toward which one is at once highly critical but also affectionate. Vanessa Fong (Only Hope: Coming of Age under China's One-Child Policy, p. 631. Palo Alto: Stanford University Press, 2004) refers to "filial nationalism" as a description of the way teens in China attempt to resolve a similar contradiction between an inescapable national identity and an "identification with a global community that deemed China inferior." The dream of pursuing the good life abroad is ubiquitous, as are complaints about the "chaotic" nature of Egypt's infrastructure and social organization. The desire to go abroad permanently is seen as selfish, even as a betrayal of society. "We would like to stay in Egypt if things would get better," complained Hawass. "[But] if we all go abroad, who will make the country better?" Yet the decision to stay in Egypt is often characterized as Quixotic and even stupid. "I only know one guy who turned down a job abroad, and everybody was, like, 'Hey, are you stupid? What's up with that?' But I think it was really a family thing, like his mother just didn't want him to go abroad," said Aida, an AUC junior majoring in anthropology.
Cosmopolitan Egyptians often say they feel trapped in a paradox. "So who am I, who feels British in Egypt but Egyptian in Britain?" asked Mina in a class journal I assigned for a Psychological Anthropology class at the American University in Cairo. Mina, who spent six years in British boarding schools, was typical of many members of the Egyptian elite. Unable to root themselves in the traditional isomorphism of people-place-culture, they are increasingly using technologies as a place to root their identities.
Mark Peterson
One Response to "Bitchslap, my camel…"
Mark Allen Peterson Says:
November 12th, 2008 at 9:10 pm

Sorry? I didn't quite get that.
Leave a Reply
You must be logged in to post a comment.