Sat 26 Jul 2008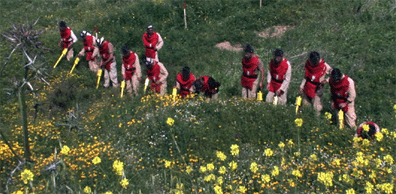 Screening and Discussion:
Sneak Preview Screening of Jawad Metni's "Lebanon Cluster Bomb"
To mark the 2nd anniversary of Israel's brutal war on the people of Lebanon, Alwan for the Arts and Deep Dish TV present four evenings of films from Deep Dish TV's new eight part television series NOTHING IS SAFE. The screenings are on consecutive Wednesdays July 23, July 30, Aug 6, and Aug 13.
July 30, 2008 Program
Free and Open to the Public
A sneak preview of Jawad Metni's new feature documentary "Lebanon Cluster Bomb"
LEBANON CLUSTER BOMB
Sneak preview (2008, Jawad Metni, 90 min)
LEBANON CLUSTER BOMB follows the men and women of South Lebanon who were hired and trained to clear unexploded cluster munitions after the July 2006 war. The Israeli Defense Forces dropped nearly 1 million of these dangerous weapons across 40 million square meters of South Lebanon. Hundreds of thousands failed to explode, and continue to kill and maim civilians 2 years after the war. The film is a primer on the cluster munition problem in Lebanon, but much more so an intimate portrait of those struggling to rebuild their lives after the devastating 2006 war. The under-represented of South Lebanon are given voice here, as they work shoulder to shoulder to return the land back to their fellow Lebanese.
Jawad Metni (director, producer, camera) has worked in documentary film and television for 15 years, as a cinematographer, editor and director. His films as cinematographer include "The Plutonium Circus", "Hell House", "Aristide and the Endless Revolution", and "The Federation of Black Cowboys". He directed "Downwind", about the effects of depleted Uranium weapons, and "Trading with the Enemy", about cigar smuggling and sex tourism in Cuba. "Lebanon Cluster Bomb" is his first feature.
Michael LaHaie (editor, producer) has been an editor and producer in film and television for over 15 years. His feature films include "Hell House", "How's Your News?", and "Easy Riders, Raging Bulls". He has been a supervising editor and producer for series on Bravo, the Independent Film Channel, and the Sundance Channel. He most recently edited the feature film "Turn the River".
Q&A with filmmakers to follow
SAVE THE DATES for the rest of the Series:
AUG 6: "33 Days" by Mai Masri preceded by "Letters from Beirut" by Rick Rowley
AUG 13: "A Question of Balance" by Suzy Salamy with "Notes on The War" by Rosie Bsheer and Maya Mikdashi
16 Beaver (between Broad and Broadway) 4th Floor New York, NY 10004
Tel.: 646 732 3261 Fax: 212 967 4326
info@alwanforthearts.org
TRAINS: 4, 5 to Bowling Green J/M/Z to Broad St. R,W to Whitehall St.1 to Rector St. or South Ferry 2, 3 to Wall St. A, C line to Broadway-Nassau
BUSES: M1, M6, M9, M16, M20.
Leave a Reply
You must be logged in to post a comment.