Wed 23 Apr 2008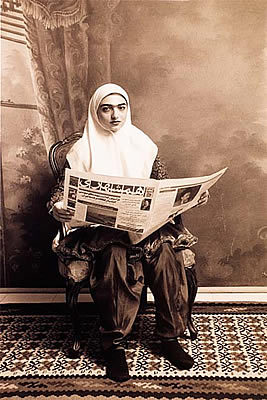 Shadi Ghadrian
Untitled (Qajar Series), 1998
Silver bromide print, Los Angeles County Museum of Art.
Shadi Ghadirian (Iran, b. 1974), who works in the medium of photography, uses her art to express herself as an Iranian and as a woman. Ghadirian's best-known body of work, the Qajar Series, was inspired by nineteenth-century studio portraits of women depicted in the fashion of the day: thick, black eyebrows; headscarves; and short skirts worn over baggy trousers. In order to re-create the earlier photographic settings, Ghadirian employed painted backdrops and dressed her models in vintage clothing from the late 1800s. She added modern objects to these traditional scenes, such as a Pepsi can, a boom box, or, as in these two images (figs. 61, 62), a bicycle and an avant-garde Tehran newspaper. She has said of her work, "My pictures became a mirror reflecting how I felt: we are stuck between tradition and modernity."
For the full exhibit on Islamic Art at the Los Angeles Museum of Art, click here.
Leave a Reply
You must be logged in to post a comment.