Sat 23 Feb 2008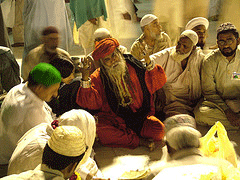 A Sufi qawall offering his devotional music in Lahore
Sufi Soul – The Mystic Music of Islam
U.K., 50 minutes
Director: Simon Broughton
Appearing on Link TV, Saturday, February 23. Visit the site for a preview.
With a dogmatic and fundamentalist view of Muslims increasingly predominant in the Western media, there has never been a more important time to show an alternative view of Islam. Sufism is the mystical dimension of Islam that preaches peace, tolerance and pluralism, while encouraging music as a way of deepening one's relationship with God. This documentary explores Sufism and its music in different parts of the Islamic world, including Syria, Turkey, Pakistan and Morocco.

Sufi Soul reveals the views and beliefs of devotees while examining the growing threat from fundamentalist Islam and showcasing fantastic performances from some of the world's greatest Sufi musicians.
For a review of the film, click here.
One Response to "Sufi Film on Link TV"
MysticSaint Says:
February 23rd, 2008 at 2:57 pm

thanks for sharing about it! beautiful documentary.
Leave a Reply
You must be logged in to post a comment.