Tue 29 Apr 2008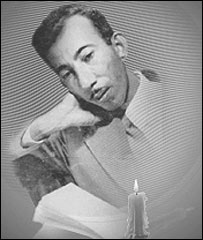 The Iraqi Poet Badr Shakir al-Sayyab
[Note: This is the 21st in a series of translations of selected letters of the noted Iraqi poet Badr Shakir al-Sayyab. For more information on the poet, click here.]
Letter #21
Al-Ma'qil, 9/17/1964
My Brother, Adunis. Dearest Beloved (along with Muhyi al-Din Muhammad). May I be lucky enough to find Muhammad.
O Dearest Friend,
How are you? Correspondence between us has stopped for about nine months now. The two reasons for this are bad luck and my incurable disease. My general health is not bad, but my two paralyzed legs are still the same. My soul is overflowing with poetry, but it is poetry that flows from the fountain of deep pain and dejection, not of delight. Just yesterday, I wrote a poem void of sadness, despair, and pain because our brother, 'Ali al-Sabti, met with my loved ones in Lebanon and carried joyful news about them to me with a promise that they will send me a letter.
You are the only one among my friends in (Lebanon) whom I did not talk to about this love because I had never met with you except in the company of my wife! How could I have expressed myself to you?! What cured me was that love, not the medicine of that wretched German female doctor (without even a B.A degree or higher). Her love cured me just like the love of the poet, Robert Browning, cured the British poetess of rickets after she suffered from it for twenty years. Our encounter lasted for twenty days or less. Then my wife led me, just like the shepherd leads his sheep, to the ladder of the airplane and then to Iraq. How wretched I am with such a marriage, such a short lived encounter, and such a malignant disease.
'Ali al-Sabti greets you. My regards to my sister, Khalida, and kisses to Arwad.
Didn't I hear that you had a baby boy? What did you name him?
I did not date this letter until someone visited me and was able to mail it for me.
[From the book, al-Sayyab's Letters, by Majid al-Samurra'i, (Beirut: Al-Mu'assasa al-'Arabiya li-al-dirasat wa-al-Nashr, Second Edition, 1994, p. 243) Translated from the original Arabic and with an introduction by George Nicolas El-Hage, Ph.D., Columbia University.]
Leave a Reply
You must be logged in to post a comment.